Back in the mid-nineties the arcade was still quite big and the world was greeted to one of the most popular arcade series "Metal Slug". The original game followed Marco an agent for Peregrine Falcon with partner Tarma fighting Morden and his army, and over the years has become one of the if not the most popular Neo Geo title. Spanning over 10 games and a few spinoffs/cross overs… Neo Geo has brought back the first in this fun series as a debut title in the Neo Geo Station line.
HOT
Interface is very nice
All games in the Neo Geo Station series have a central menu; this was very nice for me as my settings from Samurai Showdown were present when loading Metal Slug. Not only are the settings universal, players don't actually have to "load" the game to set up an online game. I liked this as you get a crisp menu to select every possible setting you have offline making it a very smooth transition.
True to the original
This is very much so a 1:1 port of the original, sadly this means it's not optimized for the ps3 and you will experience random lag.  If you can't get enough of metal slug though, you won't really notice it. Playing though it's very true to the original and delivered everything you could want; there's even a setting for scan lines! You can really tell they went all out; players have the choice to also include the original bugs in the game; so if you have a fightstick it really feels like the arcade classic. For those with no experience of the original, let's look at it.
Simple to play
First and foremost the best aspect to the Metal Slug series is that ANYONE can play it. Your grandparents, your significant other, even your pet it's just that easy. This is due to metal slug having one of the simplest concepts out there, 1 bullet/knife will kill any normal enemy and the same goes for you.  This makes your goal to make it to the end and kill the boss without dying, but that's not all! Along the way you have the chance to pick up POW's for bonus items, and if you make it to the end without dying and saving at least one you get a slight bonus and you see their name/rank. Sadly they're randomly generated so don't take it too seriously.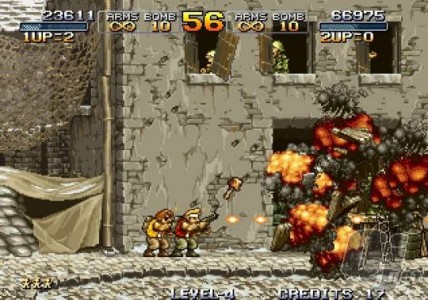 Now if you're not new to the series but new Metal Slug 1, I am going to have to warn you it's the least interesting of the series. Metal Slug 1 is more of a straight up elite force vs an army deal than any other in the series. The most abstract weapon you get is the "Flame shot", the most abstract enemy would be allen, etc. This can be depressing, but if you can live with this the game is just as fun if not more!
NOT
Default buttons are awkward
When you boot up this or any classic for the first time, you will have to push square (change [] to the word =]) in place of X. The same goes for Start which is select, while you can change this in a snap… While this might not be an issue for most this will edit how you play VASTLY. You see the X button is Jump whereas the square button is shoot. If you make X your default button to select things like every other US based Sony game since the Playstation one, you will change the controls where X is shoot and square is jump which feels unnatural. I really wish they would have changed this one thing to be more uniform. Sadly this is the least of the issues here.
Online
One of the biggest draw is the online functionality, though sadly it's a "hit and miss" system. Considering this is nearly 1:1 with the arcade classic from 16 years ago there is no excuse for the game not to work far better. Players can find some more stable games but between the lack of players, nearly unplayable game speed in most of them, and overall game difficulty it's a drag.
Difficulty
Metal Slug is a big fan of the "180" difficulty approach some games have. What this means is that at a random point in the game the difficulty will change so much it's hard not to notice. Come the last level you can easily become overwhelmed with people to kill and things to avoid. Due to a fixed amount of life's you could end up having to replay the game several times before even getting to the end.  This can turn you off playing, but is in no way the hardest in the series. You should just keep in mind, it can be very fun at the start and become very annoying at the end.
VERDICT
Metal Slug is an amazingly fun game; you will without a doubt enjoy yourself. On the other hand Metal Slug has been ported to death and without a quality online it's just not worth it. Too much of the appeal of the station titles is the online play, and unless you think you can pull off a stable online game, look into one of the many ports.
[Editor's Note: Metal Slug (NeoGeo Station) was reviewed on a PlayStation 3 platform. The game was provided to us by the publisher for review purposes.]
Metal Slug (Neo Geo Collection) Review

,