After watching the Uncharted 3 Drakes Deception teaser trailer a number of times there were a few things that jumped out as possible hints and after a little research and a bit of guessing some rather interesting results were found.
One of the many post it notes across the table makes reference to the games location which has a number of different names Ubar, Wabar and Iram of the pillars are all ways of saying the ancient lost city or lost region of the City of a Thousand Pillars on the Arabian Peninsula.
The city called Iram is also mentioned in the Qur'an as a city of pillars as well as possibly being found by NASA a few years back via ground penetrating radar sensing satellites; camel routes were followed to all center on one area thought to be the lost city. Being trading routes the game could possibly center around an artefact that was perhaps lost in this ancient city or maybe just like Shambhala from Uncharted 2, Drake will set out to discover Iram.
Other things the teaser trailer points to are either less obvious or as of yet not understandable. At the end of the teaser before the Uncharted 3 logo fades in a lone cigar has been left smouldering. This alongside the line in Uncharted 2 where Sully says to Drake he wants to go somewhere warm hints towards a possible appearance from Victor Sullivan. Also note the fact it seems there is a pubs name on side of the ash tray, although the words aren't exactly readable.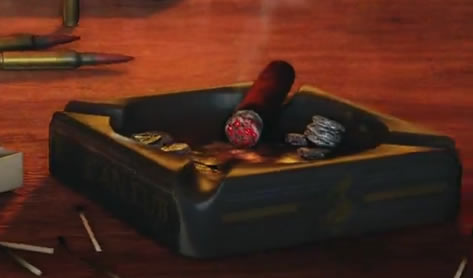 One oddity in the teaser is that there are two passports from the United States of America, as well as there not just being one, the money underneath is the English pound. This slightly baffles me and the only possible link that I have been able to make thus far is that both countries play a part even if it is slightly in the games storyline.
In the book that looks majorly like Drake journal there is a sword in circle surrounded but odd symbols which are being pointed towards. These odd symbols while looking different give the impression to be somewhat like the odd symbols in Drake's journal in Uncharted 2 perhaps they are clue to puzzles that will be found in Drakes Deception.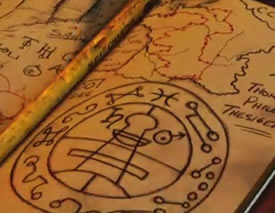 Lastly there is another odd symbol which is in the rough shape of a stickman that appears in two places in the trailer. Is this coincidence? Surely not as I am certain a lot of time has been put into this teaser. If you have an idea of what this or any of the other things in the teaser mean comment them below!

Uncharted 3 Drake's Deception Teaser Details?

,