Medal of Honor is the modern reboot of the classic franchise, moving away from World War II for the first time with the game being set in the current ongoing war in Afghanistan. With EA aiming to take on the biggest first person shooter Call of Duty, has the developer Danger Close managed to pull it off?
Lets pull the trigger and start the HOTs and NOTs
HOTs
Story
Firstly without giving any spoilers, there is plenty of variety when it comes to the storyline. From stealth, sniping and all out massive gun fights to manning a Helicopter and riding an ATV, the game has it all and does it surprisingly well. The story is definitely on par with that of Call of Duty: Modern Warfare 2, but without the over the top dramatics; while starting off relatively slow the story soon speeds up and the seemingly unlinked pieces start to patch together and finally ends with players wanting to re-play it straight away. The story is majorly helped by its diversity, instead of a constant shoot out, Danger Close have found the perfect times to change the pace of the title which not only keeps the story fresh but adds further replayability to the campaign.
Presentation
The textures are just as good as expected from any first person shooter but what truly makes the game look good is the lighting. The lighting effects are very impressive especially when it comes to low light areas even with the night vision optics turned on. When the player's optics are partially broken they phase on and off giving the game that realistic look and feel. This realism is then backed up by the amazing game sounds from the voice work to the gun shots and explosions. The sounds really helps to immerse the player into the battlefield something which not many games manage to pull off to the standard of Medal of Honor.
Sliding Around
Sliding into crouch is a great feature in Medal of Honor's singleplayer storyline; as well as allowing players to simply slide into cover it also enables them to either slide around a corner out of the enemies line of fire or to attack enemies hiding around a corner, as players can quickly snap to the sights and stop approaching enemies.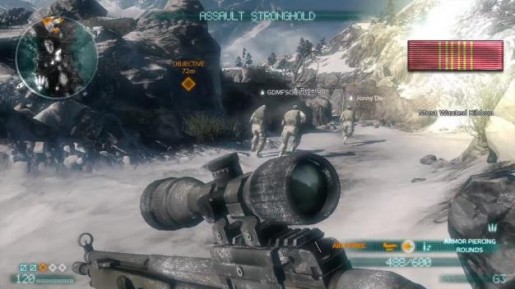 Nice Touches
There are a number of really nice touches that are all small but all add up to making a great title. When an enemy throws a flares into the air when looking through the night vision optics the screen suddenly becomes bright white and adds a dazed effect to the screen making it rather hard to see exactly what would realistically happen, it is little things like this that enhance the realism portrayed in Medal of Honor. The knife animation, in both on and offline, is much more realistic and brutal than that of Call of Duty. Instead of the knife animation just being a slice it is the actual stabbing motion on Medal of Honor. While only a small thing in a shooting game it makes a big difference when used in the middle of a gun fight it looks much better when you smoothly stab them rather than just slapping them with the knife.
Strengths of Multiplayer
Medal of Honor allows players to decide in-game exactly what their load out will be. This can be invaluable, especially when not only does it allow players to change weapon in the class but also then to even pick the type of ammo or scope for the gun. This seems much better for players rather than the limited number of pre-match created classes players can choose from in Call of Duty.
Medal of Honor currently offers eight diverse maps with five online game types to play them on. Team Assault – simply team death match, Sector Control – a domination like game type, Objective Raid – a demolition gametype, Combat Mission – like Rush in Bad Company 2 the attackers must complete the 5 consecutive missions to win and finally Hardcore – which is a playlist of all the other gametypes with harder settings.  The range of playable modes are nice as there will be something there for all types of FPS players. In addition there aren't guns that have any advantage in certain game modes; this means there is always a good array of enemies for players to tackle.
For those afraid of Medal of Honor's online would feel slow like Bad Company 2's fear not. The game not only flows faster with the general maps not being on the large side it means the gun fights are contained in a tight zone meaning for more chaotic and faster gameplay which feel more like Call Modern Warfare 2 than Bad Company 2.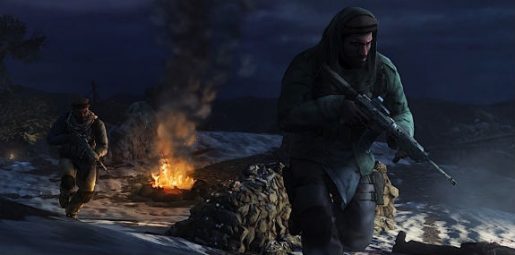 Player also get to choice there support actions while in game too, either picking an offensive action such as a mortar strike or a defensive action which the players entire team receives for example a UAV or Ammo. Unlike the Killstreaks from Call of Duty players can also gain these rewards for simply doing the objective of the game type. This seems a much fairer system as it rewards players for doing the objective as well as kills; this is a great way to encourage all players to play for the objective and not focus on their kill death ratio.
NOTs
Confused Title
There are two things about Medal of Honor that just don't quite fit together and unfortunately it is the storymode and the multiplayer sections. Taken separately they are both impressive but a number of things just don't add up. While the reason for this is the game is built on two completely different engines – and by different developers – they just don't feel at all the same.
Danger Close has added a number of features into the singleplayer section that players can't then recreate on DICE's online half of the title. The most apparent is that while playing the story, players can now go prone and also crawl very realistically shuffling from side to side along the floor; this alongside not being able to slide into cover means going straight from singleplayer to multiplayer or vice versa can be rather confusing. The change is so noticeable it is practically like you are playing a completely different game.
AI
While on the whole AI is relatively good it is majorly let down by the occasional times when it is truly awful. There are a few major problems and it just so happens one is for the enemies and one frustratingly is made by the player's allies. While enemies don't rush crazily out of cover their problem is staying in cover. If a player manages flank the enemy troops location they will stay crouched behind the cover instead of running away or turning to fire; it seems almost like a hollow victory when this happens. The AI does improve on hard difficulty, while there will still be some left crouching in cover it happens a bit less, a marginal improvement but it does still spoil the gameplay.
The Allied AI also has a rather hard to understand approach when it comes to gun fights. There were numerous instances where the allied troops walked and even sometimes stood in front of my sights while I was firing. Not only does this bring up the polite message about friendly fire it can also get rather annoying if it means your enemy escapes to fight on.
Problems With Multiplayer
When it comes to Medal of Honor's multiplayer it isn't without its own problems. Spawn trapping is a minor problem but one none the less. It mainly only occurs on the Sector Control game type when the enemy team has captured two or three out of the three positions and while it is usually sorted out relatively quickly it can cause some frustration as players rush from spawn into a lined up shot. The lack of a 'killcam' is a failure to notice a great feature on DICE's part. Whether you just skip them or enjoy watching them there is nothing to do unless players tinker with classes once they die. Even on Bad Company 2 players got to see their killer; and it just adds something to pass the time better respawns.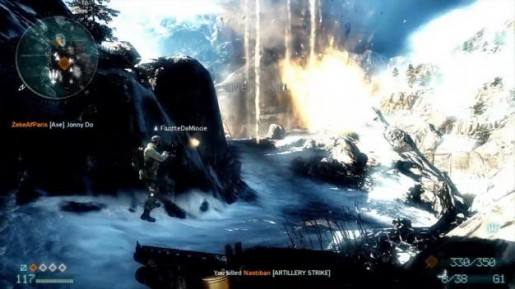 When the round ends players have no option to exit the lobby on multiplayer until they have joined the next round. This in turn means the player will have to forfeit the newly loaded match, despite the fact that this is nothing big, when players have to wait for the game to load before quitting to play a different game type it can be tedious.
Glitches
While there aren't any major glitches in the game, at least some of them that do exist don't appear too much. The first is rather a strange glitch to do with weapon sound. Occasionally it doesn't fully play the gunshot sound when you first shoot, only on the second or third shot does the proper gun sound kick in, this doesn't happen often and it is only on the assault rifles during the story mode it is something a number of games has weirdly managed to do and should be fixed. The oddest glitch to come across is probably when an AI character attempts to walk exactly where the player is walking. While it might be interesting to see what was happening from other characters eyes being able to walk inside the AI character is a bit too far.
Now and again although still rare the game will momentarily freeze at the menu screens and also at the beginning of a multiplayer match. This has a number of times made me think my console had frozen and there seems no consistency to when it happens or what causes it.
Invisible Walls
We all know how irritating it can be when you can see somewhere in a game but are blocked off by an invisible wall alas Medal of Honor seems to rather like them. While there are only a few in the campaign when players go online they will be encountered by many especially around the edges of some multiplayer maps. When attempting to run out of enemy fire and being confronted by an invisible wall, this can be rather exasperating.
Verdict
Medal of Honor offers a diverse experience both in the single and multiplayer. While the two don't fit together well takes as separate they are both very enjoyable and plenty of time can be sunk into both parts. Medal of Honor comes so close to beating Call of Duty into second place, unfortunately things such as the AI or the confused multi-singleplayer gameplay hold the game back from being the must have shooter it could have been.
[Editor's Note: Medal of Honor was reviewed on a PlayStation 3 platform. The game was provided to us by the publisher.]
Medal Of Honor Review

,