Sonic the Hedgehog has graced video game consoles for a long time now. Since that time, fans of the blue hedgehog have been longing for a game that would emulate the classic 2D gameplay from the old Sega days of the 90s. More recent Sonic the Hedgehog games have been pretty shoddy to say the least. Sonic Adventures was released recently on the PSN and Xbox Arcade but was met with mixed to negative reviews.
Can Sonic save his reputation in Sonic the Hedgehog 4? Lets find out as we take a look at the HOTs and NOTs.
HOTs
Controls
The game does not require you to remember any complex controls as you will only press one button along with the left analogue stick to move. That's all you need to do, but it works. Sonic has his jumping homing attack to dispose of enemies and also his spin dash. Most of the time you'll be jumping or running forwards trying to avoid any incoming danger. It may seem simplistic at first, but the gameplay is far from easy and the controls are easy enough for any player to master.
Graphics
As with every Sonic the Hedgehog game, the visuals are bright, colorful and pretty. Despite the game being played on a 2D plane the graphics still look great. Sonic himself is a 3D character model and he looks much cuter than when I last saw him in Sonic Adventures. It's quite refreshing to know that in this game he does not utter a single word nor does he move his mouth. He looked and sounded ugly when he spoke in Sonic Adventures…
Gameplay
The great thing about the old-school Sonic games is that you always know where you have to go. Unlike in the 3D games where you have to talk to lifeless NPCs or explore aimlessly not knowing what to do, this game just offers the old-school gameplay seen in the Sonic games of the 90s. It's also worth mentioning that the game is challenging but not too much to get too frustrated with. There's always a healthy number of golden rings to save you from dying all the time and checkpoints are littered throughout all the levels.
90s Goodness
I know I might be repeating myself, but I like the way the game is a throwback to the platforming games from yesteryear. With all these shooting games flooding the video game market recently, it's nice to play a game that doesn't involve shooting someone in the head once in a while. To keep things more interesting, is that you have to finish each level in under 10 minutes. Some levels you can complete in 4 minutes, but others have some puzzle solving elements that can make you feel nervous. I remember missing the 10 minute mark in some levels and going "oh no!" It pays that you try to go really fast and choose the best route possible.
Sound
The audio will also bring a spark of nostalgic gaming to any retro gaming fan. From the high pitch music to the sound effects, everything is will please any fan of the first 3 Sonic the Hedgehog games.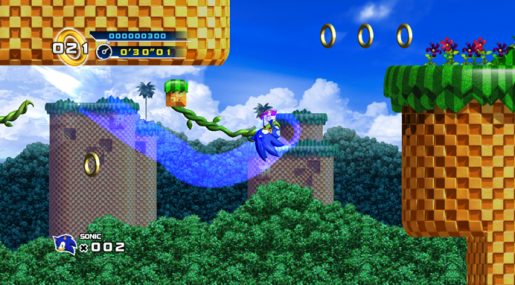 Variation
This game is not all about going fast or jumping on top of baddies. There are some moments in the game where you will have to think what the best strategy is. One level you will be submerging underwater and you will have to scout and see where the best path is as if you are too slow you will drown. In another level you will have to use all your skills in order to avoid a huge wall from crushing you!
NOTs
Boss Battles
The only thing I did not like about this game were the boss battles. They can be quite hard since you have to defeat Dr Robotnik (Eggman) in one go. Sometimes there will be a simple pattern for you to follow, but it's easier said than done. If only these levels had a few more golden rings for you to collect it would have been a little less stressful to play.
Short?
Depending on the ability of the player, this game was shorter than I expected. I know this is only "Episode 1" of the game but I was expecting a little more. I also would have liked if the game featured other characters for you to be too. I sorely missed playing as Tails and Amy from Sonic Adventures and I'm sure others would have liked to play as Knuckles. That's not to say that Sonic the Hedgehog is not a likeable character but it would have made the game a bit more interesting.
Verdict
Sonic the Hedgehog 4: Episode 1 is a great title for anyone wanting to revisit their childhood. The game is old-school gaming at its best and is challenging enough for players of any ability level. Even younger players who are not familiar with Sonic will like the bright and cute presentation this game has. Despite not having any other playable characters in the game, Sonic the Hedgehog 4: Episode 1 is still fun to play. Lets' hope Episode 2 will be even better.
[Editor's Note: Sonic the Hedgehog 4: Episode 1 was reviewed on a Xbox 360 platform. The game was played from start to completion.]
Sonic the Hedgehog 4: Episode 1 Review

,