The Nintendo Wii has been receiving a lot of love lately from the Japanese RPG genre. With Xenoblade and the Last Story coming to the Wii console in just a matter of months, Imagepoch releases Arc Rise Fantasia that offers gamers a true feel of a traditional Japanese role-playing game. Arc Rise Fantasia is no Final Fantasy but it has some of the things that will truly appeal to any hardcore RPG fan that want to have a classic RPG gaming experience. Originally localized by XSEED Games, Ignition picked up the localization rights and finally, it's now available in the United States.
After more than three delays that the game received in North America, how does Arc Rise Fantasia rank up against the high expectations of the hardcore RPG gamer? Is it worth the purchase at all? Let's take a look in the HOTs and NOTs of Ignition's Arc Rise Fantasia.
HOT
Visually Impressive
For a Nintendo Wii game, Arc Rise Fantasia offers impressive visuals that can be outputted on a 480p. The design of the game is very well crafted and is comparable to Namco Bandai's Tales series. Comparing it to other Wii games, Arc Rise Fantasia could be considered as having one of the best Wii graphics to date. Throughout the game, there will CG cut scenes that streams smoothly and an in-game scene which is executed via the traditional conversation that a gamer will find in any Japanese role playing game. In between conversations of the characters, a portrait and an expression will be shown. For those people who miss an on-screen world map, Arc Rise Fantasia has a lot of places to go to. The towns and dungeons are colorful and most of the time, they don't show any blandness to them.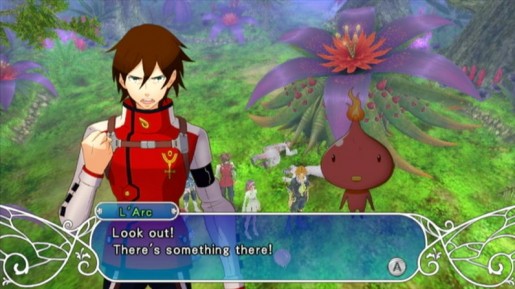 Traditional JRPG Style
As a gamer who grew up playing RPGs, it is a pleasure to see that Arc Rise Fantasia has that traditional RPG feel to it. From talking to townspeople, getting sidequests from the guild, venturing onto the on-screen worldmap, and having the turned based battle system are some of the features that will appeal to the old-school lover of RPG games. At every town the character goes into, there will be a lot of townspeople that a player can talk to and get useful information about the history of the town and the story. The battle system offers no complicated leveling system. After a character reaches a certain level, skills will be rewarded and their stats will grow. Following each battle, experience points and Rico (money currency for the game) will be rewarded and it can be used in buying towards upgrading the character's equipment. For gamers who played games such as Final Fantasy VII, Suikoden, and Wild ARMS, you'll feel right at home playing Arc Rise Fantasia.
Decent Length
A lot of RPGs released lately have been rather short. A player can expect to finish Arc Rise Fantasia in at least 50 hours without doing any sidequests. There are a lot of things to do before a player can decide to finish the game. Hunting for the ultimate weapons, and doing all sidequests are just one of the things a player can do whenever they get bored from the main story. Did I tell you that there are also costumes for you to collect?
Easy to Follow Battle System
Arc Rise Fantasia's battle system is turned-based. At every command of each character, an AP (Action Points) will be used up. These APs are set at the beginning of each battle. The characters in the party can attack, use items, skills and summon the Rogress *summon* as many times as they want as long as the party's AP is not depleted. At the end of each round, the AP will reset. The only way to increase the AP is through the character level progression. The more times that a player will grind, the more APs will be rewarded allowing the characters in the party to attack as many times as they want.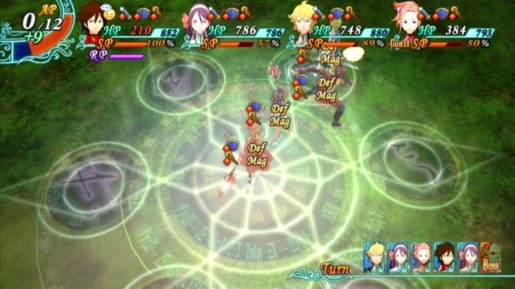 Character Customization
There are a lot of ways in Arc Rise Fantasia to make a character in the player's party to be powerful. Every weapon that a player gets, it has skill attributes that you can set. These skill attributes can make the character have more HP, deal more damage to aquatic enemies, plus so much more. In addition to the weapons that a character can equip, a player can also assign magic orbs to a character , in which a player can buy orbs at a local town. Every character in the game are able to equip magics. Before a character can cast a magic, an MP will needed.
NOT
Weak Story
Empire versus Empire is what Arc Rise Fantasia is all about. For the last fifteen years that I've been playing RPGs, the motif of having one empire attack the other empire is getting too old and common. Arc Rise Fantasia will take gamers into the story of L'Arc Bright Lagoon, a member of the Meridian Empire Military. The game opens up in a scene where L'Arc is fighting a Feldragon. Following the defeat of the Feldragon opens up a path for L'Arc and Ryfia, a Imagining Diva, to meet and begin the destiny that they have to save world. The empire that L'Arc is working for have assigned him to do a treacherous work in the rivaling empire. The mission will lead into the discovery of the world's destruction and it's up to L'Arc and Ryfia to stop it. Throughout the game, L'Arc will be joined by a lot of characters. Players can expect a story of friendship, betrayal, and heroism. Very common motifs eh?
Unbalanced Boss Fights
One of the most annoying things in Arc Rise Fantasia is how unbalanced the boss fights are. At every major boss fights a player can encounter, it is impossible for anyone to beat it in just one try. Regardless of the level you're at, the boss in the game can give players an instant KO. In this flaw, there is a solution to it, spend more time on grinding levels and push your luck. The bosses are not to impossible to defeat but I guarantee you this, a player will never beat a boss in just one try as one attack of an enemy can deal 500 damage. Good luck.
Horrible Voice Acting
If there is an award for the Worst Voice Acting in the history of video games, Arc Rise Fantasia will get it. The game has one of the most awful voice cast ever assembled in a video game. The way they talk in cut scenes has no emotion to it and it makes the game sound bland and boring. It seems that Ignition hired some inexperienced voice actors to cut costs and rush the game into stores as soon as possible.
VERDICT
Arc Rise Fantasia is not a bad game at all. Yes, the horrible voice acting and unbalanced boss fights are a complete turn off but as soon as you can get pass this, a player will enjoy the game. If Ignition Entertainment didn't take the localization rights from XSEED Games, there's a chance that the voice acting would have been better. Patience is what a gamer will need in the game but yes, the game is enjoyable and it is a must have for anyone who wants a challenging Japanese role playing game.
[Editor's Note: Arc Rise Fantasia was reviewed on a Nintendo Wii platform. The game was provided to us by the publisher.]
Arc Rise Fantasia Review

,