Split/Second by BlackRock Studios is a racing game which can be compared to the Burnout series. As a contestant participating in a reality TV show called Split/Second, your goal is to win through a series of races. It sounds very simple enough, but it's not. Using the racing track to your advantage, you can make the buildings and cars explode to hinder your opponent's chances of winning. For fans who have played the likes of Motorstorm or Burnout, the explosions and the environments are nothing compared with Split/Second.
How is Split/Second compared to other kart-racing games out there? Let's take a look on a detailed review of the game by weighing the HOTs and the NOTs:
HOT
Exemplary Presentation
Let me say this first; Split/Second is currently one of the best racing games out there that showcases how explosive special effects are should truly be done. In Split/Second, gamers can expect to see more than just exploding cars. From the tall towers, and power plants, prepare to be amazed as you watch them explode and they all crumble down right before your very eyes. There will be many times it'll be hard to navigate when everything is exploding onscreen all the time. Without a map, it will be hard to know where to drive but thanks to a guide arrow, it will lead you to the right direction. There is a total of twelve tracks in the game all with impressive visuals. Split/Second will take you to places such as the airport, underground tunnel, a ship port and a lot more. The environments are all well designed; the buildings, the lighting effects, and the shadows blends together correctly to produce one very beautiful racing environment. There are times that you'll be hard pressed to notice you're actually playing a video game as the environments are really that good.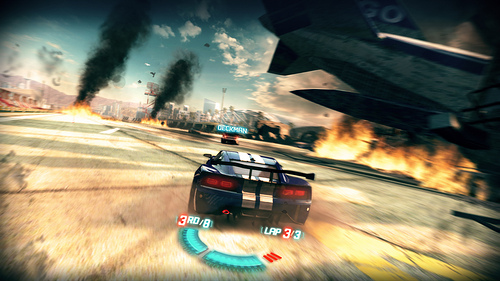 Different Games Modes
In addition to just a simple racing mode, there are others to look forward to such as Detonator and Air Strike. One of the most intense modes in Split/Second is Air Strike where gamers will have three lives to try and survive the onslaught of an attack helicopter shooting missile at you!. Bunch of explosions will be coming around but there will be a mark as to where the missiles will land in the track. Survive each wave successfully and a multiplier will be triggered that gives you more points. For Detonator mode, prepare to drive alone as you finish the race in time while buildings around the race track aredetonating one by one. It gets pretty intense when an airplane is crashing right in front of you and you won't know where to go. Beat the time and you'll finish in 1st place.
Aside from Detonator and Air Strike, other common modes are available such as Elimination and Survival. In Elimination, there will a countdown timer, once it hits zero, whoever is at last place will be eliminated. In Survival mode, expect to drive while a series of exploding barrels will land everyone on the track. A truck that carries these exploding barrels will be driving along and the goal for you is to surpass them and survive. I must say that the modes in Split/Second are very addicting and it will keep you coming back for more if you don't succeed on the first try.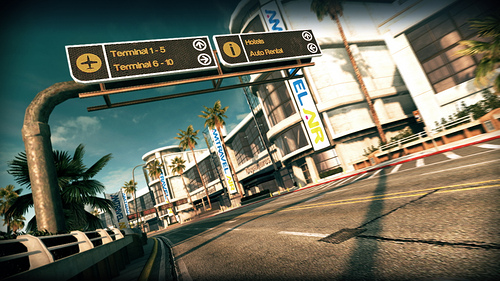 Power Play
Racing in Split/Second is not the only way to win a race. Power Play is a key to take down enemies by detonating or creating explosions around the race track. In order to trigger a Power Play, you must fill up the meter on your HUD. In order to do so, you must do a drift. Drifting allows the power play meter to fill up. Once it's fill up, a Power Play attack can be triggered by pressing the X or A button. Look for a sign above the enemies as an indicator that a Power Play can launch. Prepare to see unbelievable explosions that you haven't seen before in movies.
Reality TV Show
As a contestant in the Split/Second reality TV show, you will be going through a series of races in twelve episodes. Each of the episodes will contain five races each housing varying game modes. Finishing each race will give you credits. These credits unlock the Elite Race mode that allows you move on to the next mode. The credits can also be used to unlock cars that you can use in the contest. If you fail to achieve first place, it can be done again and more credits will be awarded. There are Bonus Modes that will be unlocked after meeting certain requirements in each episode. Look for them as you play through the game.
Multiplayer Mode
Up to eight players can team up and race in the multiplayer mode of Split/Second. A gamer can create their own to full customize the tracks and modes they want or they can just jump in to find an available spot. The maps that you can unlock while playing the Season mode will be available for us online. From my experience online, there is no lag whatsoever and it's as smooth as you're playing a single player race. If online isn't your thing, two player split-screen is available for offline gamers.
Extras; Decal Stickers
After unlocking an achievement or trophy, several decal stickers for your car will be unlocked. These decal stickers are automatically applied to any car that will be used when doing a race. Unlocking the achievements or trophies can be unlocked by meeting certain requirements when playing both online and single player game. A Statistics and Leaderboards section are also available for anyone wanting to see how they fare against with the rest of the world or how many times they crashed and do a Power Play attack. In the future, downloadable content will be released for Split/Second as there's PlayStation Store / Xbox LIVE Marketplace access within the game.
Every Lap is Different
There are no maps whatsoever while racing in Split/Second. In every lap that you do, the track changes its course. The only way to find out where the right direction is by following the arrow signs within the game. There are secret or shortcut areas that will be available but it is only unlockable when a Power Play points is used. Trusting your instincts will be your best bet because the race tracks can change anytime!
NOT
Recycled Use of Environments
There are plenty of tracks available in in the game but anyone can notice that each of them are similar to one another. One example of this is a Downtown Central area where two others maps are using the same design. It's not totally bad at all but sometimes it feels repetitive seeing the same exact environments even though it's a different track.
Fair Designs of Cars
When it comes to the cars that will be used in Split/Second, they are all fake you won't see any licensed car designs in this game. The only time you can call the cars decent is when you get to nounlock a lot of decals. Some decals are better looking than others but this still depends on each person's personal preference. Seeing how this game is published by Disney, I'm not surprised at all with the sometimes ugly looking decals.
VERDICT
For gamers who want to experience an intense, adrenaline pumping racing-game that we normally see in movies, Split/Second will be the closest thing you will get. The explosions and the buildings getting destroyed are one of the main things that will get your blood boiling. Forget games such as Blur and Burnout, Split/Second will occupy most of your time. The ability for the race track to change every lap, makes Split/Second deserve to have the following moniker; " Expect the Unexpected".
[Editor's Note: Split/Second was reviewed on a PlayStation 3 platform. The copy was supplied to us by the publisher played both Season Play and Online.]
Split/Second Review

,