From the developers who brought you Puzzle Quest comes another similar game called Puzzle Chronicles.  The story begins with your entire tribe being taken and sold into slavery.  To your luck a mysterious sorceress buys you and immediately sets you free.  Obviously she has something against your enemies as well, but all will not be revealed until you free your tribe and execute the usual revenge scheme.  Can this new RPG/Puzzle hybrid live up to the quality that Puzzle Quest has shown before?
Here are the HOTs and NOTs.
HOT
Concept
Puzzle Chronicle's concept sounds good when discussing its basis in conversation.  You're a barbarian who is on a warpath to weak havoc on his captors and liberate his tribe as well.  During that journey you will encounter many enemies to fight, side quests to take, items to buy and mini games to play as your progress through various areas.  Each battle is set up in the usual puzzle style requiring the player to match gems of the same color with each other while also keeping an eye out for special gems, such as Rage gems, in order to execute special attacks or push the dividing line between combatants toward their opponent.
The fight to clear gems and gain ground in this tug-of-war style gameplay is also displayed above the gems with the barbarian and his enemy attacking each other from time to time.  You can send your sidekick Warbeast to perform powerful attacks with the right combination of gems.  Another way to ensure victory is to prepare beforehand.  Any money that is collected during the journey can be spent on offensive or defensive gear.   With all the RPG elements affecting the puzzle portion of the game this should have come together nicely right?  Not exactly.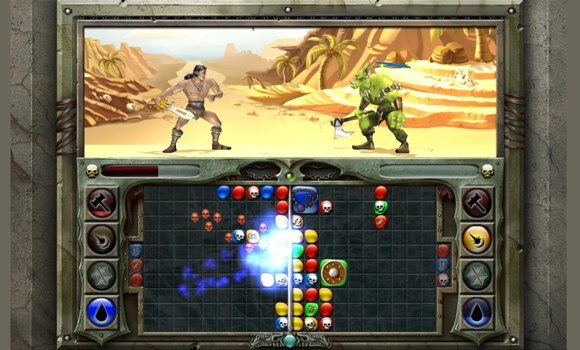 NOT
Visuals
The visuals are easily the biggest turn off in the game.  The character textures are rough and the environments aren't much to look at either.  Actually the game doesn't surpass the quality of some free online flash games.  The whole game feels very rushed.  This can become extremely apparent once you notice that no matter how you finish a match the opponent will always have the exact same death animation.  With little variety in the graphics and combat the game can become boring and tedious before you even hit the one hour benchmark.
Gameplay
As I mentioned earlier the concept of the game sounds like the recipe for success.  Unfortunately, most of it falls short from what you'd expect from a series following in the footsteps of Puzzle Quest.  Although special attacks can warrant a little excitement at first it's likely to wear off quickly.  There just isn't enough innovation or variety to hold the player's attention for too long unless they are a die hard puzzle fanatic.  Otherwise we're left with a hastily thrown together product that doesn't deliver.  I found myself barely able to continue through each area and my boredom reached a point where I had forgotten there was a story present.  Actually I think I spaced out for a while as my hands went into auto-pilot as the puzzle battles took place.  When I became conscious of what was going on I was sad to see that I was still playing Puzzle Chronicles.
VERDICT
Puzzle Chronicles had a lot to prove since it was coming after the successful Puzzle Quest series hoping to provide players with more.  It didn't reach that goal.  The concept idea was a good one and I'm sure when it was being pitched people ate it up.  Leave it to poor production value and little creativity and you end up with this.  Ideas are always great in the mind where options are limitless, but it seems when it came down to executing the proposed game they forgot what they were going for.  Only the hardest puzzle players will venture into this land.  If that title doesn't apply to you, then you're best off spending those points elsewhere.
[Editor's Note: Puzzle Chronicles was reviewed on a Xbox 360 platform. The game was provided to us by the publisher]