Before you decide to lead an angry mob towards Rockstar's doorstep let me inform you that the game does not normally allow for this to happen, but an uncovered exploit changes that.  Many have wondered when Rockstar would allow the realism and violence reach the young ones in game.  In GTA IV there was a stroller spotted out on some rock as a little easter egg to tease people who considered the idea.  It seems that Red Dead Redemption is the game that breaks the tradition and allows you to kill more than just grown ups.
SPOILERS
For those who haven't progressed to about 70% or so the next few sentences will reveal certain plot points.  Read at your own risk.  If you're still here, then I have an interesting discovery to share with you.  I reached the part in the story where John Marston is reuinited with his wife and son.  Everything was going great and I continued through the missions normally.  To proceed to the next mission I had to wait until morning for them to appear.  I walked back to the ranch when I noticed a man walking in the open.  I shot at him and his hat, along with a spurt of blood, flew into the air.  To my surprise he got up and ran.  I chased after him and realized he had the blue X over him meaning I could not shoot him.  It was the uncle who was watching the ranch.  I wondered if the blue X had failed to appear when I shot him originally, but I learned that if you have a shot gun, throwing knives, dynamite or molotovs then you can damage these NPCs.  You can do it with other weapons such as pistols if you can swing the cursor over the character faster than the game can register that they should not be harmed.  When using the shotgun all I had to do was aim to either side of the character and the gun's spread tagged them.  I ended up killing the uncle which brought me to a screen reading "You have killed a member of your family. The game will now load from the last checkpoint."  It was time to experiment.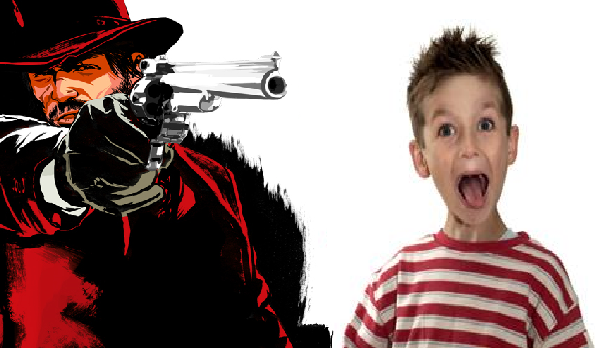 I went into the ranch where John's wife was laying in bed.  I pulled out the shotgun, aimed a little to the right of her and shot.  The same series of events unfolded and she died.  By killing friends or family that shouldn't be harmed John goes into a random death animation compliments of the ragdoll physics and the game will reload your last checkpoint as the screen states.  Now at this point you're probably wondering what all this has to do with a child's death?  Upon exploring the house more I found John's son, Jack.  I was able to harm Jack and the damage was visible on his body.  To make the whole thing a little more unusual, and slightly comedic, was that as I shot at Jack he said "Not again!".  After he died I was taken to the same screen as usual and the game loaded up the checkpoint for me.  I was wondering if Rockstar let melee weapons harm these "invulnerable" NPCs so I walked back to Jack's room and he was about to get into bed.  I swung but the knife went right through him without any effect.  I thought that was that…not exactly.  As he laid down I still had my knife drawn and I noticed a prompt to press circle appeared which read "Silent Kill".  John proceeded to cover his son's mouth and slit his throat.  As you'd expect this brought me to the "you killed your family" screen.
As far as I know this is the first game to allow player's to expand their killing from adults to children.  I guess I shouldn't really say "allow".  The game was not made in hopes that you'd ruthlessly slaughter your wife and son, but due to some possible oversights (or trusting that gamers aren't psychos) it can be done.  Take a look for yourself and leave some comments letting us know what you think.  As this story spreads out there I'm sure there will be tons of heated discussions.  Also, be sure to check back soon as our review of the game will be up (No, killing children will not make it into the HOTs").
Killing Children In Red Dead Redemption?

,