The first impression I had when I started playing 3D Dot Game Heroes was the similarities to The Legend of Zelda: A Link to the Past. From the gameplay to the dungeon layout, I felt a strong nostalgic connection with the Zelda games as I played through 3D Dot Game Heroes. Veteran gamers will look back in the past and link it with their memories. Although it is similar to The Legend of Zelda, there is more to it than meets the eye. Fans will get the classic feel, but everyone will see the charm the game has to offer.
Some Zelda fans might be wondering, "Is 3D Dot Game Heroes a complete rip-off of Nintendo's A Link to the Past?" If that's the case, then I'm sure they will be thinking that this game will suck. Let me prove these naysayers wrong in the HOTs and NOTs of the Atlus's and From Software's 3D Dot Game Heroes for the PS3.
HOT
Charming Graphics and Presentation
One of the many charms in 3D Dot Game Heroes that will catch everyone's attention is the beautiful graphics. It doesn't have the realistic graphics you would expect in a Final Fantasy game, but it has the graphics of a 2D game vibrantly updated in 3D style. The Kingdom of Dotnia is a beautiful one and the environments, characters, enemies, dungeons, and NPCs are all animated in a pixelated, Lego-type style. When killing enemies in either the dungeon or in the grassy field of the Kingdom of Dotnia, players will see them shattered into several pieces of dots.
Dungeons in 3D Dot Game Heroes is what you would expect from a Legend of Zelda game. There are temples that the hero will have to go through and acquire Orbs in order to save the world. Objectives include passing through different levels of dungeons, solving puzzles to get through, getting the Boss Key, activating the portal to the entrance and finally fighting the boss. After defeating the boss, you will get a Container that will increase your health. Yeah, isn't it like Zelda?
As for exploring towns and venturing through the wilds of the Kingdom, players will receive a map that show the whole kingdom. As always, it is laid out similarly to the Legend of Zelda. You cannot access the whole map right away, as you will need certain items and tools to get through different areas of the game. The tools that can be found in the game are bombs, hook shot, bow, swords, and a lot more. Although they are very similar to Link's equipment, what makes the hero of 3D Dot Game Heroes so special is the ability to obtain different swords, weapons, and shields throughout the game. Link, unfortunately, is always stuck with his Master Sword and Hyrule Shield.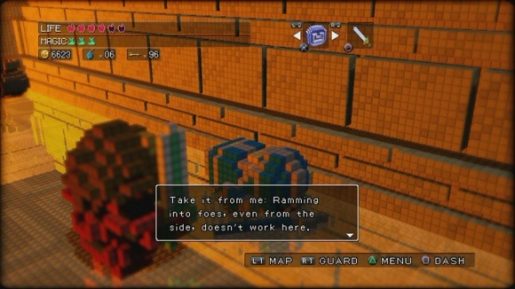 Whenever the Hero of 3D Dot Game Heroes has full health, he has the maximum power of the sword and it gets big. Yep, it gets big so that it can slash lots of enemies at once. Lose your health, and your sword shrinks. It's better if you keep a close eye on your health so that you can unleash the full potential of the sword.
Cameos, References from Other Games
3D Dot Game Heroes wasn't made to completely rip-off the Legend of Zelda but it's a way to connect to veteran gamers who love the classic games released a decade ago. One of the things that From Software did to connect to the gamers is include cameos in the game. Starting with the loading screen, you will have an opportunity to see images of characters from past games such as Castlevania, Chrono Trigger, and Dragon Quest. The loading screens can be unlocked as you play through the game and you get to unlock at least a 100 of them. If you decide to install the game's data, you will not be able to see these but there's an option in the main menu to look it up.
There are also references to other games that can be found in 3D Dot Game Heroes. If you've played games such as Demon's Souls and Dragon Quest, you will pick up on the references to these titles as well. An example of this is seeing a man laying down dead with a message written beside him that says, "There's a message on the floor"…now can you guess what game is that? Yep, that's Demon Souls. Another reference that I find interesting was my encounter with a Metal Slime. Fans of Dragon Quest games will remember the Metal Slime to be very fast and sneaky, but when defeated it gives you very high experience; in 3D Dot Game Heroes, they're fast and sneaky but it gives you more gold instead of experience.
Create your own Hero
Another cool feature that 3D Dot Game Heroes has to offer is the ability to create your own character. Thanks to the in-game character editing tool, you can make your imaginary hero come to life. However, it it is time consuming, as you have to make a separate model for when they're walking side-to-side, attacking, and when viewed from behind. If creating your own character isn't your thing, there are over 20 pre-made characters that you can use. At any point in the game, you can change the character you have in case you get bored of your current model.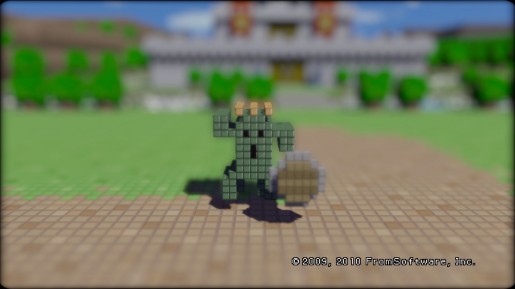 Proud of your creation? Then why not share it with other people online? I am sure by the time the game is out to the public, there will be a forum where gamers can exchange the characters they created to one another. There is no limit as to how many characters you can transfer over. Just get the friend's Creation Data and exchange! It's that easy!
Take A Snapshot
If you like showing off the characters you created, you can go ahead and capture your favorite moments using the in-game snapshot tool. Whenever you want to show something to your friends or co-workers, all you have to do in the game is to go to the menu and take a snapshot. It will be saved in the PS3's hard drive under Images and you can transfer it to an SD card or flash drive to upload it to your PC. Isn't that convenient? However, you cannot take a snapshot while you're in a conversation or in a cut-scene.
Why is it Similar to Zelda?
3D Dot Game Heroes was made thanks to the inspiration that Nintendo gave to >From Software. I must admit, from start to finish, 3D Dot Game Heroes made me feel like I was playing the Legend of Zelda: A Link to the Past, but in HD. The way From Software did this game helps veteran gamers and new comers a like to experience what a real classic was all about.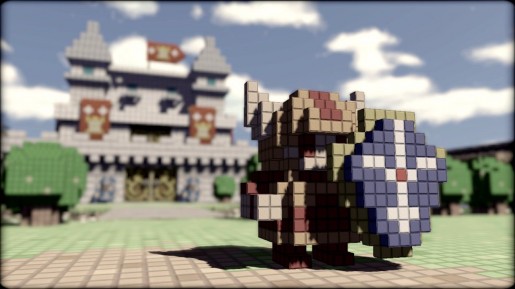 Alright, let's talk of the similarities that the Legend of Zelda: A Link to the Past shares with 3D Dot Game Heroes. There are enemies in 3D Dot Game Heroes that can be found in the Legend of Zelda games; for example, an octopus that blows out ink and a copy cat in the dungeon that imitates your every move. As for the gameplay, it is almost identical, as you will have to go through temples in 3D Dot Game Heroes and fight the boss in the end to get the Orb and an extra health container. Tools are the same but there are new ones that can be found in 3D Dot Game Heroes.
NOT
Weak Story
One big thing that puts 3D Dot Game Heroes far apart from the Legend of Zelda is the story. 3D Dot Game Heroes' story is not that interesting. You play as the Hero of Dotnia, who was asked to gather the orbs that the sages locked away for centuries in order to defeat the Dark Lord. You get the Hero's sword in the beginning and that's the start of the journey. It gets a little twist as you play through, but it's not as strong as Zelda. Despite the weak story the game has to offer, it doesn't affect the overall experience that you get in the game.
Retro Tunes
One annoying thing about 3D Dot Game Heroes is the repetitive retro tunes that you will hear all the time. It loops continuously and veteran gamers who love the classics will get tired of it. The retro tunes are remixes from classic tunes that we all heard from the past. Although it is nice to hear them again, it's not good to hear them continuously.
VERDICT
3D Dot Game Heroes is a game that will link veteran gamers to the past and reminiscence from their childhood gaming memories. The classic feel will bring veterans and new-comers together wanting to see what games were like in the 80s and 90s. The ability to create your own character is a nice addition to gamers who would want their imaginary hero to come true. Overall, 3D Dot Game Heroes is a must-have for every gamer who wants a charming retro gaming experience. It's a great way to bring the past into the present!
3D Dot Game Heroes Review

,