Early this morning I had the opportunity to sit down and see how far Alpha Protocol has come.  As followers of the upcoming game are aware it was delayed from late last year to June 1st of this year.  They claim that the game was completed in time for its original release date, but they wanted to add some more polish.  I can safely say that the increased waiting time is a small price to pay for a game that looks to define the genre and further blur the line between 3rd Person Shooter and RPG.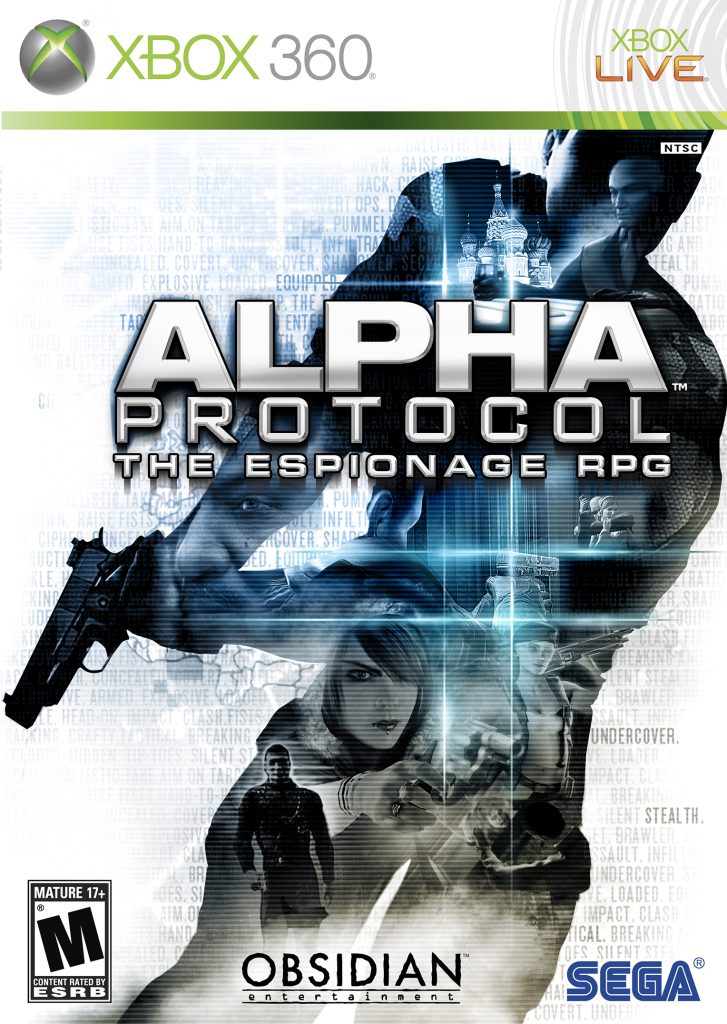 Alpha Protocol is a modern day espionage RPG that plays like a solid 3rd Person Shooter.  Michael Thorton is the main character.  He is a rookie spy that is sent on a mission to locate those responsible for the missile attack on a passenger jetliner.  The organization that game him this task is Alpha Protocol.  this secret organization does not fall under the jurisdiction of the US government, therefore, the US can deny all claims of involvement in their missions.  Now that you have a brief overview of the game let us dive into the mechanics and what we were shown.
The first scene presented was the main character talking with a possible female interest.  It displayed the conversation system which they refer to as DSS (Dynamic Stance System).  Players are given a limited amount of time to choose a response.  These responses lay within the categories suave, professional, and aggressive.  For anyone who has played Mass Effect this mechanic will feel similar.  As he returned from what I can assume was a long mission the two talked about how they missed each other.  This led to Thorton and the woman laying down on the bed as the screen faded to black.  When the picture returned Michael was standing in front of a fireplace and the romance perk was unlocked.  This was obviously the character on the "good" path.  They loaded up a different save of the same scene, but this character was headed in the evil direction.  The scene started out with Michael searching for the woman.  She came out from inside a doorway and continuously smashed an object over his head.  She claimed she did not know if Michael or another character I was not introduced to was worse and left.  The tough break up perk was unlocked after this scenario.  These perks are unlocked for various actions and dialogue options throughout the game.  Once unlocked they boost certain stats like health, endurance, etc.  Through their actions players can sculpt a character that fits their play style whether that is a stealth based agent, all out assault, or even a martial artist.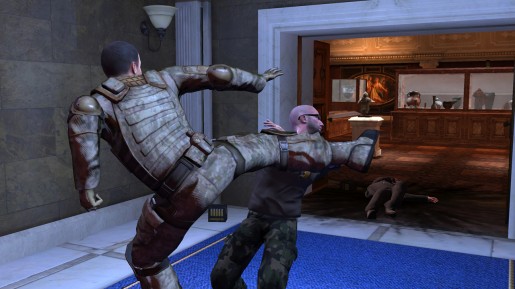 Another level was loaded up to show off the more action based pieces of the game.  As with all levels it can be taken in multiple ways.  At first he tried to take a stealthy approach switching his primary weapon's ammo type to subsonic rounds.  This was one of three available ammunition types available on the specific weapon.  The first two guys were taken out with precise headshots.  The further your guy progresses in the area of weapon marksmanship the faster the reticle closes in on the center for more precise shots.  If the reticle is fully closed on someone's head, then you will get a headshot.  Where you aim is where you shoot.  There are no RPG elements affecting if your character lands a hit.  It only affects how quickly his reticle closes in on its target.  After attempting a shot on a third guard the player was spotted and the gloves were off.  Before engaging in combat we took a quick trip to the stats menu and the upgradeable slots were revealed.  There were both passive skills such as improved accuracy and skills that could be used by pushing a button.  Chain shot for the pistol was enabled and the gameplay resumed.  The skill was activated and slow motion took over as he placed one marker on an enemy's chest and a second on his head.  When slo-mo disabled both shots rang out at the same time impacting the guard and killing him immediately.  The chain shot can be upgraded to have a total of six available markers to set on your opposition.  The level continued and the line of sight from the enemy was broken.  This is where I saw two of the passive skills in action.  When one enemy looked in his direction the character turned slightly see-through alerting the player to an enemy's attention focusing on him which gave him crucial time to become hidden.  After avoiding detection he sprinted straight up behind an enemy using a passive skill that allows the character's running to be completely silent for up to ten seconds.  Upon arriving at the enemy's back he initiated a quick kill and stabbed him in the neck.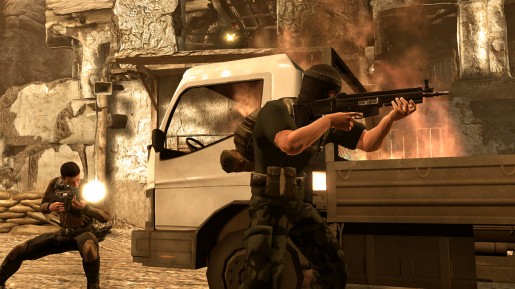 Enough fooling around.  It was time to face a boss.  Easily distinguishable from normal soldiers, the boss has a health bar that was whittled away by direct automatic fire.  A couple clips later and the big guy went down.  A scene initiated and the player was now tasked with taking out an APC that contained an important opposing character.  After three rockets the APC was done and the enemy stumbled out of the wrecked vehicle.  The conversation system started up and before the enemy could be purged for information another scene started.  This is one of their mechanics that they are proud of.  Before huge moments where a decision must be made the game fast forwards to Michael Thorton sitting in a room being interrogated.  During this interrogation the one asking the questions makes statements regarding Michael's decision in a situation before the player has even chosen what to do.  This means that during an interrogation scene Michael can be accused of killing someone and once the scene is over and the choice is back in the player's hands they can decide not to kill the person they were just accused of killing in the fast forward sequence.  Confused?  It is an odd concept, but it is a fresh idea and could bring a new way of story telling to gaming.  Back to the conversation between Michael and the enemy that was hidden in the APC.  After revealing the beginning of the conspiracy that that the main character had become a part of it was decided that an execution was in order.  So he clicked the "execute" topic during the conversation and threw the Jihad off the bridge saying "Remember when you were a kid and would pretend you could fly?  This time you're the plane."  The game definitely knows how to mix great gameplay, complex moral choices, and humor into a wonderful mix.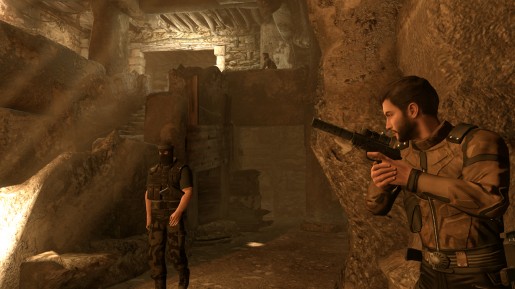 Players are given multiple locations (Saudi Arabia, Rome, and Moscow to name a few) to take missions from in whatever order they please.  An immense amount of freedom given to the players to turn the game into whatever style they would like to.  Unlike other RPGs that brag about multiple endings, but all the content up to that point is fairly similar Alpha Protocol is further separating themselves from that tendency. The term "multiple middles" was brought up and what that means is that depending on how each individual player goes through the game they will each encounter different scenarios throughout the entire game instead of just being given an alternate ending.  This has the potential to add an absurd amount of replay value as everyone tries to see each possible outcome for all scenarios in the game.
The game is coming out June 1st for PS3, Xbox 360, and PC.  Don't miss out on what could be a defining game for this hybrid genre.  If there is something you would like to know about the game be sure to leave a comment below and we will fill you in on anything that may have been left out.
GDC 2010: Alpha Protocol Impression

,