DICE has released their sequel to their well received game Battlefield: Bad Company in 2008. The game takes everything it excelled at such as tactical decisions, addictive multiplayer, and amazing destruction and improves on them all while correcting its weak points to make this a true contender for the #1 spot for the FPS genre.
Welcome back to Bad Company! Marlowe, Sweetwater, Sarge, and Haggard are taking charge once again in the infamous B-Company. The cast returns to put their neck on the line in hopes of finally being able to go home to resume their lifestyles and hobbies. As usual their dreams of a life away from the military are once again brushed aside as the situation becomes filled with multiple complications. This leads to the military's dependence on their four man squad to take on a set of suicidal objectives in order to save the world from certain doom.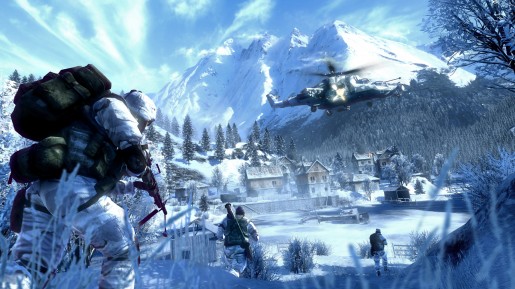 HOTs
Campaign
At a glance the campaign's story does not break away from the pack by presenting the player with anything truly amazing, but through the pieces that make up the campaign there are some truly great elements to be seen.
First and foremost, your squadmates have some of the greatest personalities that really draw the player in.  Their conversations and comments always fit the situation and add a good amount of humor which keeps them from becoming forgettable or stale.  Haggard is all about big bangs and gunfights.  If he is not talking about destroying something or someone, then chances are he is going on about his love for NASCAR.  Sweetwater is a tech savy nerd with little interest in being in the line of fire, but he still knows how to handle himself.  Sarge tends to keep the squad in check especially when their conversations sprout off on random tangents.  Your character, Marlowe, has been given more of a voice this time around.  He still narrates the events during cutscenes like before, but he also interacts with the other three characters a lot more often and even shows his more dominant side.  This adds a good amount of depth to him and allows players to further connect with him unlike the first Bad Company.
The story may not be a breakthrough in the area of new ideas.  Actually there may not be a single fresh idea in the plot as it unfolds.  I am not saying it is bland and tedious to work through.  It is just as epic as Modern Warfare 2's story, if not more, in all aspects, but as previously stated the story will play out in a predictable manner.  The way the campaign progresses gives it a truly satisfying feel though.  The game starts out in 1944 during World War II putting players in the boots of a soldier during a stealth operation to retrieve a Japanese scientist.  The events that take place in this mission set the stage for the remainder of the game which takes place during present day with your beloved Bad Company.  Many may remember that the last game's story was very light hearted and full of laughter.  While the laughter is still present throughout the game the story itself has taken on a more serious tone.  This change allows the game and its story to be taken seriously and gives us a reason to care about the events taking place.  For the most part each major character you meet in the game has been given a distinct personality, like your squad members, making them memorable and enjoyable additions.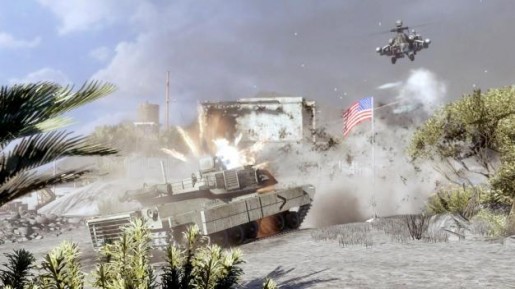 Destruction
This is DICE's domain and they dominate in this area.  Having trouble with an assault soldier in the second level of a house?  Blow away the walls surrounding him for a better shot or bring the entire house down on top of him for a "Destruction 2.0" kill.  Having trouble locating that sniper in the tree line?  Level the forest with explosives or bullets to create a clear line of sight to your victim who has now been left out in the open.  Sure blowing stuff up is cool and fun, but when used as a way of strategic planning it becomes even more than an aesthetically pleasing gameplay mechanic.  Let's say you want to avoid a known mounted machine gun outpost and therefore taking the road is not an option and vehicles are nowhere to be seen.  No problem.  Flip up your underslung sights and blow a path directly through buildings thus creating a safe route to travel to flank your foes.  Your explosives and the devastation they cause come in handy for those ready to take well thought out tactical approaches to situations rather than running right through the intelligent opposition.
Enemy AI
Bad Company 2 boasts some intelligent AI that can really make you rethink your next move.  Just as you can reduce their cover to rubble they can do the same to yours.  If you hide behind a wall they will waste no time switching to their grenade launcher to regain sight of you.  They will even advance on you if you retreat or stay hidden forcing you into confrontations when you are unprepared.  Best of all, if you decide to get up in their face to try and prove your superiority, then you better have that trigger finger ready because they will not just sit there and unload into your gut.  They will pull out their knife, the same one you have, and kill you with one hit just as you are able to do.  So remember that you are not a one man army and that just about every tactic you have at your disposal your enemy has as well.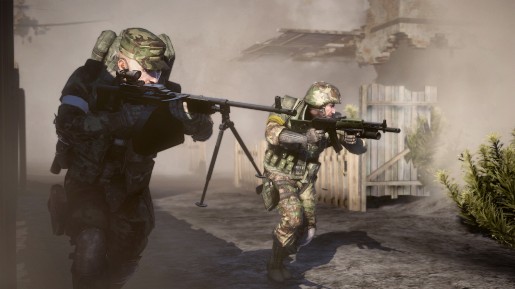 Sound
The sound effects within the game are not only clear and accurate, but also helpful.  Each gun sports a fitting sound that reflects its stopping power.  The M24 rings out with an echo as its shot leaves the barrel and is followed by a satisfying pull on the bolt.  As entertaining as it is to hear each weapon fire or crack and rustling of a fallen tree, there are life-saving qualities being provided by each.  During multiplayer sessions or the single player campaign if you hear a loud crack and whiz it means that a sniper is trained on you and you should probably take cover since chances are he will try to make the second shot count.  Once you enter a house the sounds change giving you a little more awareness.  Everything echoes.  Your shots will echo and so will the enemy's if they are in the house.  If you hear a shot echo in the building your occupying, then do a thorough search before posting up in the place.  Also, footsteps on the wood floors in the houses make good indications that you should probably turn around or have someone watch your back.  The sounds each have a purpose which is more than just pleasing your ear buds and you will quickly learn how to utilize and distinguish between each as your gameplay time increases.
Multiplayer
The multiplayer crown has just been handed back to DICE.  They did well to implement destruction into gameplay, but dominating the multiplayer aspect of gaming is nothing new for them.  This is their territory and once again they succeed.  Unlike the story levels each multiplayer map is a massive, wide open area waiting for you to explore to find tactically advantageous points or new flanking routes near objectives.  Chances are you will not see every area of the map during one match.  Unless you make a point of exploring and learning every crevice players will probably come across an area unseen on some maps even if they have played that specific map numerous times.  Not only can you expect a respectable scale for each level, but players will also see an immense amount of variety.  Battles can take place in dense jungles, open swamps, tropical islands, snowy mountains, spacious deserts.  The list goes on and on.  Each level provides the necessary support in the form of architecture or terrain to accompany the gameplay style for each class and vehicle. That is only part of the beauty they have created here.
Players rank up in a traditional fashion.  Kill enemies, capture control points, revive teammates, etc etc and you will be rewarded with points.  Modern Warfare 2 has players leveling up and unlocking all weapons as they go along.  This can be troublesome since some players have to go through a series of unlocks for weapons they do not want or that do not fit their style.  This is not the case with Bad Company 2.  Sure you rank up and unlock certain weapons as you go along, but the ones you unlock that correspond to your rank are for your secondary weapon slot.  Yes, that's right.  You get to choose your secondary this time around.  This means everyone can have a pistol and not just the recon team.  Or maybe you feel like packing a little more punch and a shotgun is more along your preferred style of play.  Also, perks become available for your soldier and any vehicles you might want to commandeer which can further be used to support your character's role in the fight.  Let's get back on track to the class specifics.  Whichever class you choose the kills you obtain with that loadout go towards that class' unlocks.  For example, if you choose the recon class, then your kills with your sniper and sidearm go towards unlocking sights and snipers inside that class.  So if you want to unlock the M16 you will not be able to do that by playing with the engineer's class.  Choose a class to specialize in with something you want to work towards for the best results.  This will unlock class specific equipment that is crucial to your squad and team as a whole.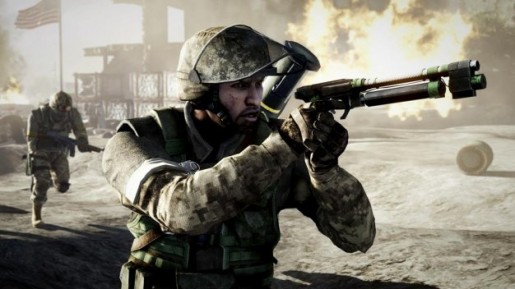 Your squad is your in-game family.  Take care of them and they will take care of you.  Know your role and play your class in the proper way.  If you are a Medic, then be sure to throw out some health kits or even revive some downed allies (this also credits back your team's lost "tickets).  This is a tactical shooter and, when played correctly, is tremendously enjoyable.  Most people who love Modern Warfare 2's twitch-trigger, reflex-reliable nature may find it hard to adjust to this game.  It is slower and it requires teamwork to achieve success.  Being a lone wolf and worrying about your Kill/Death Ratio will only hinder your team's success (most of the time).  Thankfully, the matches played so far have resulted in seamless teamwork tactics as your squad realizes that you are there for them and vice versa so they will do what is necessary to make sure you are able to help them attack, obtain, kill, or whatever the situation calls for.  In a recent review for MAG I stated that its fan base was one of the most mature communities out there where everyone seemed to care about your well-being.  It still is, but Bad Company 2 comes close to taking the cake for that as well.  You really feel like an important part of the squad because you know that they are relying on the abilities at your class' disposal just as you have expectations of their actions regarding their class' abilities.  When first experienced and if taken seriously players might just see that Battlefield holds the title for the best multiplayer experience around.
NOTs
Technical Issues
Occasionally the game has a few trouble spots.  Some blurry textures can be noticeable at times.  During other points in the game there were screen tearing issues.  One of the most odd, but uncommon occurrences, was that the game would not recognize hits on buildings.  There were a few instances were walls were unharmed from a grenade launcher shot and the shot had to be repeated to get the initial result.  These issues are small and barely a spec on a near flawless game.
VERDICT
Bad Company 2 is a superb package.  It grows off its strong points in the first game and fixes the announces and issues found there as well.  It includes an engaging campaign with the liveliest cast in an FPS which will keep you interested in every bit of dialogue till the very end.  It also reclaims its throne from Modern Warfare 2 in the multiplayer department and once again shows us that, as the box art states, they truly are "defining online warfare".  For any fan of this genre Bad Company 2 is a must buy and should be the greatest addition to your shooter collection for quite some time.
[Editor's Note: Battlefield: Bad Company 2 was reviewed on a Xbox 360 platform. The game was supplied to us by the publisher.]
Battlefield: Bad Company 2 Review

,