MAG, or Massive Action Game, is Zipper Interactive's latest creation.  You might know that studio well for its earlier work on the SOCOM games.  This time it has crafted an online only FPS sporting its well known strategic elements and topped it off with a commendable 256 player count.  Players can choose from one of three factions, S.V.E.R., Valor, or Raven, before they start their campaign.  S.V.E.R. is based out of Russia and its combatants are mostly in the form of mercenaries and citizens that have decided to revolt.  Valor's roots lay in Alaska and it gains its numbers from special operations units from the US, Mexico, Canada, and Britain.  The final faction is Raven.  Raven's base is in Austria and they are easily the most advanced in terms of technology and weaponry.
Does this Massively Ambitious Game have what it takes to pull people away from Modern Warfare 2 and the upcoming Bad Company 2?  Here are the HOTs and NOTs of MAG:
HOTs
256 Players
This is MAG's selling point.  One large scale battle is set before you and 255 other players.  This might seem a tad overwhelming when you think about it.  Surprisingly, it is not a a crazy cluster of players grenade spamming everywhere.  With the huge maps containing multiple objectives you will never run into the opposing team's numbers all at once.  Most of the time you will not even see half of your enemies.  It is a wonderful experience knowing that throughout the rest of the map there are multiple battles just like yours taking place.  This really opens you up to the sense of scale in every battle.  It also makes you realize that your role in the fight is only significant if you are fighting WITH your team.  For those people who love to be a lone wolf and rack up a godly kill/death ratio this is not for you.  That tactic may work occasionally, but MAG's game modes revolve around strategic planning and playing as a team.  The game's survival in general relies on the type of players that take part in its ongoing war.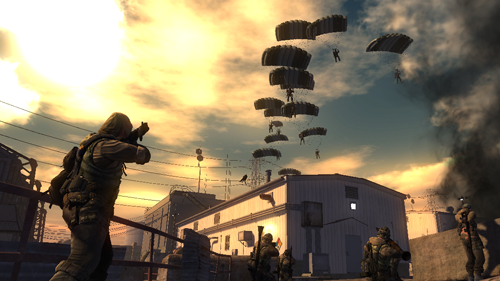 Community
From the moment I stepped into my first 64 player Suppression match I noticed something was different, but could not put my finger on it right away.  A few matches under my belt and I figured out what made this game stand out from other first person shooters on the market.  It has one of the best communities I have seen so far.  Since the game is rated Teen I was expecting a plethora of underaged kids talking into the mics about their awesome ability to pawn anyone and anything.  What I got was a group of people ranging from 18 to almost 40.  They were mature and communicated plans of attack, as well as looking out for downed players to ensure the squad kept on fighting hard.  It was a refreshing change after months of Modern Warfare 2 where most people split up and did their own thing once the match started.  Those of you who have played past SOCOM games will feel right at home with a similar mature fan base.  It makes the gameplay even more enjoyable knowing that those fighting by your side actually care about your survival and see you as a crucial part to the squad.  Their actions are most likely due to the fact that once a faction is chosen it can not be changed to another until the player reaches level 60 and activates veteran mode or erases his player profile completely to create a new one.  This creates a sense of loyalty and attachment to the faction someone has chosen and those that have made the same choice.
Leveling Up
MAG has an in-depth leveling up system filled with upgrades, rewards, and specializations.  The game eases you into its mechanics.  At first players will only have access to the 64 player Suppression mode.  Once they reach level eight all competitive modes will be open for selection, including the 256 player Domination mode.  For each time your rank increases you are awarded one skill point.  Skill points can be used to purchase weapons such as a new sniper for the next tier level.  Maybe you would rather upgrade your current weapon of choice with scopes, grips, recoil reducers, steadier aim or one of the many other enhancements you can add to make your deadly arsenal a little more deadly.  Another route to take it is to purchase new or upgraded equipment to further support your team.  These can range from medical supplies to revive allies or tools to repair other equipment.  No matter which way you go you will be well on your way to making yourself a more crucial component to your team.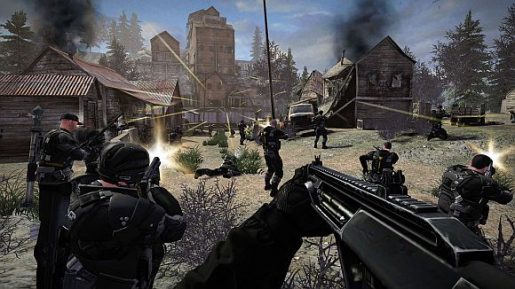 Leader Options
Speaking of teamwork, once you reach level eight you will be eligible for squad leader and at level fifteen you have the chance of becoming a platoon leader.  Squad leaders relay messages from their corresponding platoon leader to their squad.  Platoon leaders carry messages from the big guy upstairs.  The Officer In Charge is the highest role a player can achieve.  They can set objectives for everyone in their faction to follow.  Many people may think it is impossible for players these days to succumb to the will of another player, but there are incentives for following orders.  Certain leaders provide players with boosts similar to perks while players who attack/defend an area designated by higher command are rewarded with double XP.
Lag Free
A game that supports 256 players and a fairly constant frame rate would have been expected by many to suffer from lag.  This is not the case.  In every I have match played I've yet to witness any lagging.  This helped to keep the immersion level high and the experience of a constantly changing war more gratifying.
NOTs
Animations
One of the shortcomings of MAG can be seen in is its stiff animations.  This is even more obvious when initiating the simple task of aiming down the sights.  The gun "pops" from its hip position to right in front of the soldier's face.  It is a minor detail, but when gamers these days have played other FPS currently on store shelves that pride themselves on their attention to detail it can be annoying to some.  The game does not look bad by any standard, but it does not rival the technical powerhouses we see debuting each year.  It is an understandable flaw since the game was bound to make sacrifices in some areas to keep the focus on running a 256 player war smoothly during development.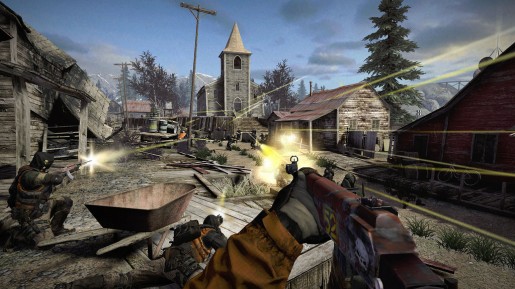 S.V.E.R.
With a strong community backing it up what else could possibly bring MAG down?  Unfortunately,  there is one thing that can end the fun quickly.  Balancing issues have been claimed by many.  These claims are against S.V.E.R.  The faction's weaponry is slower in fire rate, but boasts increased damage.  Their armory shows some advantages, but it does not end there.  S.V.E.R.'s home turf can be seen as near impenetrable at times.  The paths to the objectives on their maps are littered with automated turrets and their faction's fighters have the upper hand usually with higher ground and defensive positions.  This unbalance oversight can be fixed with a patch, but at the moment Zipper has not made any announcements regarding an upcoming fixes to the game.
Verdict
MAG promised an unprecedented number of players in one battle while maintaining the fun aspects we've come to know and love from the FPS genre.  In most areas the game succeeds in obtaining its goal.  The imbalanced faction problem can become a major problem if gone unchecked.  At the moment it is too early to tell if it will be something players will have to accept.  Besides that issue and a few stiff animations the game provides gamers with a fresh experience.  If you are the type of gamer who runs it alone, then I advise you to avoid this game.  MAG can only be as good as the players the populate its battlefields and that must consist of those who are friendly and able to play tactically as a team to progress their faction as a whole instead of boosting their stats individually.
MAG Review

,