Anyone who has not yet completed the Battle of Forli DLC (the review can be found here) is advised to scroll down to the verdict/score to avoid reading any spoilers.
The final sequence to complete the Assassin's Creed 2 story has been released and it offers players 10 more memories to complete and synchronize.  Bonfire of the Vanities' story picks up where the Battle of Forli left off and as last time you will be given a quick synopsis of the events that took place prior to your current task.  Here's a little information to help refresh your memory: Ezio dispatched the Orsi Brothers in order to help Caterina Sforza regain control of Forli.  It turns out it was merely a distraction so that the brothers could obtain the Piece of Eden in your possession.  At the end of the DLC Ezio is injured and left to bleed out while a blurred black-robed monk took off with the Piece of Eden.  Who is this mysterious man you ask? The real question on players' minds is "Is this new DLC worth downloading?"
Here are the HOTs and NOTs of Bonfire of the Vanities:
HOTs
Story
Ezio is still on the hunt for the mad monk, Savonarola, who has stolen the Piece of Eden during Sequence 12.  Ezio's search brings him to Florence to meet up with Machiavelli.  This simple task is quickly complicated by the ongoing fighting between Rodrigo Borgia's men and the guards that Savonarola has taken control of via the Piece of Eden not to mention that Ezio's notoriety level maxes out right away.  This makes running straight to your objective one massive brawl for you to fight your way through.  Some players may find it more fitting to their play style to stick to the roof tops to avoid the large scuffle taking place below them.  Upon reaching Machiavelli the two start devising a better plan than simply assaulting the Palazzo Pitti to take out Savonarola since it is obvious that would be a suicide mission.  Instead they come up with the plan to eliminate the 9 lieutenants who are spreading Savonarola's word in order to start a revolt lead by La Volpe and Paola.  The story being told not only fills in the gap for Sequence 13, but the conversations between Ezio and the 9 lieutenants who try and justify their actions adds even more depth.
Variety
This bit of DLC provides even more variety than its predecessor.  Looking at it from a glance having 9 assassinations to carry out sounds repetitive, but each one stands apart by having certain requirements.  One of them has our assassin sneaking onto a ship undetected to take out a man who is guarded by multiple guards, including two of the brutes, and is standing in the middle of the deck.  Another target stands above you and sends down wave after wave of soldiers to fight you as you try to make your way towards him while avoiding swords and arrows.  The mission variety will please every type of player since they range from strict stealth missions to all out wars against around 20 men at a time.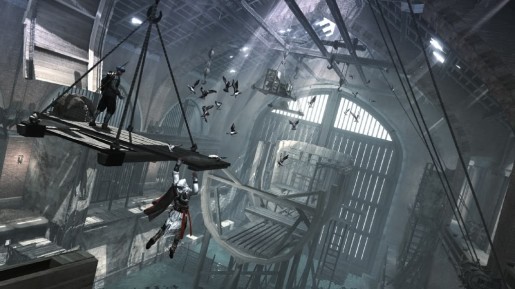 Content
Bonfire of the Vanities packs much more content than Battle of Forli contained.  It includes 10 memory sequences versus the 6 in the last DLC pack and for only $1 more!  Battle of Forli gave players between an extra 45 minutes to an hour of gameplay.  Even the more experienced players will find more game time in the Bonfire of the Vanities.  Also, another addition to the game is the ability to explore a new area of Florence that was not previously accessible.  It does not stand out from the areas players have seen before, but it is nice to run around an area you do not know like the back of your hand already.  Many believed that since the DLC took before the story had ended that new abilities would not be presented for the player to enjoy.  Although it is not a game-changing mechanic, springboards have been added to some rooftops.  They are curved poles sporting red flags that allow Ezio to launch off of them to clear large distances.  The first couple times you try this it will be entertaining.  The only problem is that chances are you will not come across these more than once or twice.
For those of you who are willing to dish out $9.99 you can add 3 new locations to your map: Palazzo Medici, Santa Maria dei Far, and Arsenal Shipyard .  These locations were preorder incentives for certain retail stores.  So if you already have access to some or all of the preorder locations then going for the more expensive package is probably not necessary.  I am not saying that those of you who have not had a chance to check out one of these new areas MUST buy the $10 bundle.  These locations are similar to what you have seen in the assassin's tombs and are made up of free running puzzles and a little combat.
NOTs
Achievements/Trophies
Once again players are denied the opportunity to earn any new achievements or trophies.  This is not a huge deal, but nowadays it is the norm for DLC to include new challenges for players to complete.  It adds more replay value for those trying to obtain all possible gamer points or trophies.  It also lengthens total game play time since players will go out of their way to take care of new challenges.
Replayability
As we all know players can not replay certain sequences to experience them again.  So essentially we are paying to fill in the story and run through these missions once.  Unless you plan on playing through the story a second, or even a third, time this is something you will have to take into consideration in determining its value to you.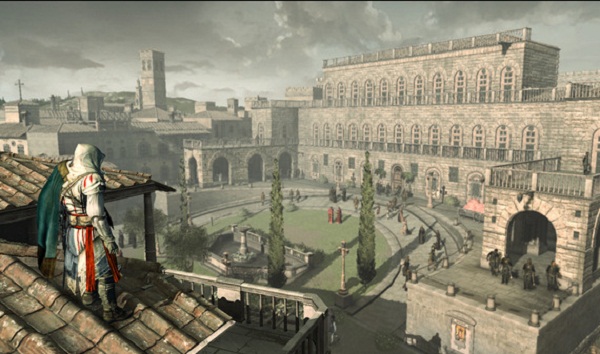 Price
In my last review for Battle of Forli I stated that its price was good for the content it contained.  If Battle of Forli was priced well for its content, then Bonfire of the Vanities is priced great for what players are given. It will extend the game time over another hour and really allows players to dive into Ezio's shoes one last time with a plethora of different assassinations with distinguishing characteristics.
Verdict
Bonfire of the Vanities delivers what players have come to expect from the Assassin's Creed series.  With a substantial amount of added gameplay at a low price it should not be missed.  It feels good to finish up the story and tie up all the loose ends.  It comes together nicely and leaves you with a motivational speech from Ezio that feels right and maybe even a little enlightening.  For anyone who purchased Battle of Forli I do not even need to tell you to purchase this one as I am sure you have already downloaded it and completed it like me.  Anyone who is on the fence or can only purchase one I would recommend going with this DLC.  It is much longer, adds more for the player to do, and it will fill you in on the events in Battle of Forli so you do not miss out on anything.
[Editor's Note: Assassin's Creed II: Bonfire of the Vanities was reviewed on a PlayStation 3 platform. The DLC was supplied to us by the publisher.]
Assassin's Creed 2: Bonfire of the Vanities DLC Review

,