Anyone who has not yet completed the game is advised to scroll down to the verdict/score to avoid reading any spoilers
For those of you who have completed Assassin's Creed 2 you might remember that during your journey you were desynchronized immediately after Sequence 11.  When you were able to access the memories once again you were thrown ahead into Sequence 14 with no clue as to what had taken place in between or why your character started sporting a beard.  The Battle of Forli DLC fills in part of the gap by adding Sequence 12, composed of 6 new memories, back to the story.  This is one of two sequences that was left out of the retail copy in order to comply with the set release date of November 20th.
Battle of Forli picks up right after Ezio realizes that most of his new found companions during his adventure are really assassins and he joins them.  The main character that you will be interacting with during this DLC is Caterina Sforza.  Sound familiar?  She was the lady you met on the way to Venice that did not seem to serve any purpose other than giving you a gondola tutorial.  You are able to see a little deeper into this character since now she is no longer a damsel in distress but a fierce combatant and passionate leader protecting Forli.  The episode opens with Forli under attack by the Orsi brothers who set up a distraction to obtain a Piece of Eden.
Does the first DLC show us why we should still love Assassin's Creed 2? Here are the HOTs and NOTs.
HOTs
Story
Since the Battle of Forli would have originally been in the game had it not been for time constraints its story fits in seamlessly with the rest of the game.  As previously mentioned players get a more in depth view of Caterina's character and it makes her past appearance more meaningful.  Not only does it help fill in the main story's gap a little, but the episode itself has some interesting twists that will keep you engaged in the plot.  If you have not touched your copy of Assassin's Creed 2 in a while there is no need to worry.  Once you download the DLC and start up the game it will immediately throw you into Sequence 12 and give you a little paragraph to help jog your memory on the events leading up to the Battle of Forli.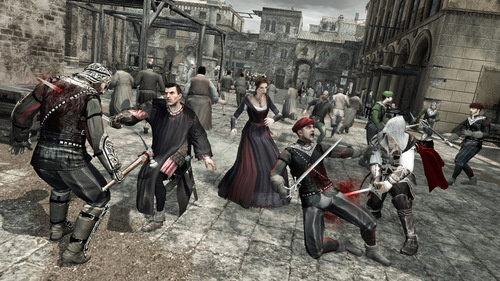 Variety
The episode throws in quite a bit of variety in its missions which keeps the episode from becoming dull.  During Sequence 12 you will have objectives including: protection battles, escort, timed rescues and two assassinations.  Players should be quite content no matter what their play style is because it is all there.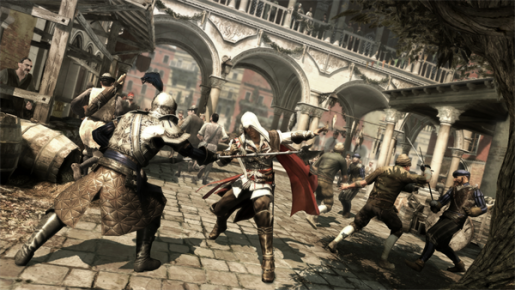 Price
This DLC is priced rather fairly unlike most of what we download these days.  For $3.99 or 320 MS points you can add Sequence 12 back to your memory banks.  This really is not a bad deal since people seem to have no problem dishing out $5 for simple character skins.  For an expanded story, engrossing subplots, and more of the gameplay we love this price can not be beat.
NOTs
NEW content
Since this game only expands on what the existing game currently has in it chances are you will not see anything you have not seen before.  As many others were, I too was hoping for something new to be added into this DLC since it was being released later on, thus giving the developers a little time to add in new experiences for the player.  So if you were expecting to see new skills, assassin tombs or even trophies/achievements you are out of luck.  There was one small addition however.  A special memory is unlocked that allows Ezio to access Di Vinci's flying machine whenever you like in case you did not get that achievement or trophy.  After a couple sessions with the flying machine the experience is no longer too exciting though.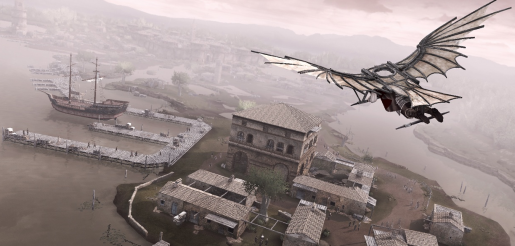 Length
The experience during Battle of Forli is overall a good one, but it comes to an end all too soon.  The episode should take no longer than an hour to complete.  Not only does it seem to end so abruptly, but it ends right when the story really starts to grab your attention.  We are left with a cliffhanger ending that leaves the player hungry for more.  Unfortunately, that appetite can only be satisfied by spending $4.99 next month on the Bonfire of the Vanities (Sequence 13) DLC.
Verdict
The Battle of Forli DLC has some memorable moments and definitely does a good job of giving us a reason to revisit Assassin's Creed 2.  Even though the length sits at about an hour of gameplay and actual new content is not present the $3.99 price point is not going to break the bank.  For those who loved the story such as myself and MUST fill in the gaps then this purchase is a no brainer.  For anyone who has not had the chance to play this game and is considering it I would suggest waiting till next month and downloading both sets of DLC at the same time. That way you are able to play through the entire game the way it was meant to be played without having to attempt to recall on the game's past events.
[Editor's Note: Assassin's Creed II: Battle of Forli was reviewed on a PlayStation 3 platform. The DLC was played upon completion and was provided by the publisher.]
Assassin's Creed 2: Battle of Forli DLC Review

,