Every choice you make in Dragon Age: Origins will impact the relationship that you have with your companions that you meet throughout the game. The rate in which they grow to trust you is called Approval Ratings. With a high approval rating you can increase party members usefulness, and even start a romance. If you think that your approval ratings with a bo slot gacor certain character is too low, there is one way to give it a boost and that is by giving "gifts" that you get as you journey through Ferelden.
Gifts can either be acquired throughout the game or can be bought from daftar situs slot the merchants you come across to. With a lot of characters that can be recruited, it is hard to tell which gift is suited for each character. Let's take a look on the complete gift listing:
NOTE: There are tons of gifts that are versatile. The ones listed below are character specific.
Check the list of gifts that unlock scenes with the characters.
Level Up Chart is now available!
Truth about Recruiting Loghain is now available!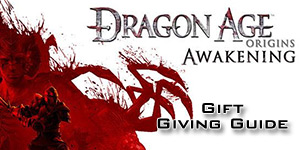 Check out the Gifts Giving Guide for Dragon Age: Awakening!
Bermain game slot gacor hari ini banyak jackpot yang bisa di peroleh
Dragon Age II: Gift Giving Guide Now Available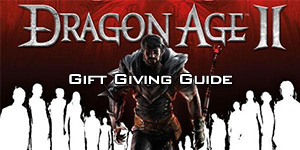 Check out our Gift Giving Guide for the newly released Dragon Age II!
MORRIGAN
– Golden Mirror
– Tribal Necklace
– Silver Chain
– Silver Brooch
– Locket
– Golden Amulet
– Flemeth's Grimoire
– Black Grimoire
– Golden Rope Necklace
– Golden Demon Pendant
– Silver Medallion
ALLISTER
– Black Runestone
– Onyx Demon Statuette
– Stone Dragon Statuette
– White Runestone
– Duncan's Shield
– Stone Warrior Statuette
– Small Carved Statuette
– Allistair's Mother's Amulet
DOG
– Ox Bone
– Lamb Bone
– Beef Bone
– Veal Bone
– Large Bone
Dragon Age: Origins - Gifts Giving Guide (Raise Approval Ratings)

,