Since the PlayStation 2 era, I've been a fan of Ratchet & Clank games and not a single game in the series has disappointed me. I've played the ones on PSP as well but nothing impressed me more than when I played Tools of Destruction for the PlayStation 3. Finishing Tools Of Destruction left me disappointed due to the cliffhanger. Sure that is fine for me because I knew there would be a sequel. When the second in the series was announced, Quest for Booty, I got even more excited knowing the location of Clank would finally be revealed, but as always, it left us again in a cliff hanger. Finally, with Ratchet & Clank Future: A Crack In Time, the Future series will finally comes to a close as Ratchet will finally find out the location of Clank.
A Crack in Time continues after the events of Quest for Booty. The search for Clank continues as Ratchet & Captain Qwark venture throughout Polaris. During Ratchet's journey, he meets a Lombax that will help him find clues about Clank's whereabouts. You will find out in the beginning of the game that Clank has been kidnapped by Dr. Nefarious.  Dr. Nefarious wants to control time and it's up to Ratchet & Clank to do whatever they can to stop him.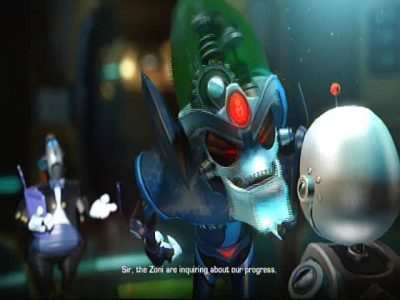 With A Crack in Time releasing this week, how does this game hold up with the two games released on the PlayStation 3? Is it worth buying? Let's take a look on the HOTs and NOTs.
HOT
Presentation
When it comes to presentation, Ratchet & Clank has some of the most colorful and beautiful graphics. However, in Ratchet & Clank Future: A Crack in Time, there is no major change from the graphics of the previous two games. The same exact textures and engine was used but it's a pleasure look at new planets and environments that Ratchet and Clank will visit throughout the game.
Aside from the beautiful and colorful environments, the voice-overs are done pretty well and it helps makes the game feel more alive, as if you were watching a Pixar movie. The CG animations look crisp in HD,  everything is nicely rendered and runs smoothly even when a lot is on screen. There are points in the game where everyone will rush Ratchet and you won't have a choice but to keep on hitting that square button until everyone is dead. Yep, that's how chaotic the game can be!
New Weapons, Gadgets & Customization
There's a nice amount of new weapons in this game. One of my favorite weapons is the Sonic Eruptor, a gun that looks like a fish and can belch a wave that damages multiple enemies. Another weapon that can be appealing to shooter fans is the Plasma Striker, which acts as your Sniper Rifle. Similar to past Ratchet & Clank games, the number of enemies that you kill using that weapon, it levels up making it even stronger. To make the weapons even more advantageous to Ratchet, there is a customize option where you can alter parts on Ratchet's weapon. You'll find tools scattered across the levels that you can use for customization.
With the help of General Azimuth, an exiled Lombax, he will give Ratchet hoverboots and other gadgets that will aid him in his journey. Gadgets such as the Hoverboots will boost Ratchet's speed and enable him  to glide in the air. There are different gadgets that Ratchet can use, you unlock them as you progress through the game.
Controlling Clank; Puzzles
Throughout the adventure of Ratchet searching for Clank, there will be times where the story will shift to Clank and you get to play him. As always, when you play as Clank you'll be solving puzzles. One of the puzzles that you will encounter most of the time involves in time shifting. When Clank manages to get the Scepter that controls time, you will be able to do some complicated puzzles that will make Clank run around the area and control time. Trust me, it might sound hard but it sure kept me entertained.
Replay Value
Completing the story isn't the only thing to do in this game. Collecting Bolts, Zonis to upgrade your ship, exploring the small moons in Polaris, and leveling up your weapon to its max level are extra things you can do. Sure if you are a trophy whore, you must do a lot of things and spend more time with it. The game takes at least 12-14 hours to finish and you can make it more than that if you want to get everything.
Just like in every other Ratchet & Clank game, A Crack in Time features cheats, skins, and skills to make the game even more challenging. There are tons of gold bolts that are scattered throughout Polaris and obtaining them gets you the ability to purchase skins from just being plain old Ratchet to Azimuth, the general of the Lombax race. As for the cheats, you need skill points to unlock them. Skill points can be obtained through doing special things at each planet Ratchet goes to.
The way of traveling from one planet to another is through an arcade like 2D spaceship level. The planets resemble the ones in Super Mario Galaxy. It's a short level but it's worth visiting if you want to collect the Zonis and have a lot of bolts.
Leaderboards
The ability to see your ranking is one of the neat ideas in this game. As you play through the game on the PlayStation Network, your game stats get recorded and uploaded to the leaderboard. From the amount of bolts you've earned to number of deaths, all of these things are recorded so everyone in the world can see your stats
Humor
One of the things I love so much about Ratchet is the humor. From start to finish there are plenty of funny remarks, especially from Captain Qwark.  There are plenty of laughs to be had here, even when the lines are a bit corny
NOT
That is it?
The ending of A Crack in Time brings the Future series to a close. Now that is indeed sad because I enjoyed every single Ratchet & Clank game and would like to have more. The next series might be on the PlayStation 4! Who knows? I just hope Insomniac won't forget that they have dedicated fans that love the Ratchet & Clank series.
Just a sequel.. Nothing great
A Crack in Time is a sequel to Quest for Booty and the conclusion to the series. If you are expecting something new or engaging within the game, you will be disappointed. There is nothing enthralling in this game except of the new things added in such as new weapons and of course the continuation of the story. What it lacks is the innovation.
Smashing machines can get boring
I do enjoy the battle system of the Ratchet & Clank series but there are some points in time that it gets too dull. This is to be expected but it doesn't remove the beauty of the game.
VERDICT
As a hardcore Ratchet & Clank fan, A Crack in Time did not disappoint me. The conclusion was satisfying and the overall gameplay is something everyone should experience. The game is a must have for everybody and there is no reason why you shouldn't play it. Overall, Ratchet & Clank Future: A Crack in Time is a pretty solid title that offers fun gameplay and good chunks of humor. The adventure was great and we would like Insomniac to make more!
Ratchet & Clank Future: A Crack in Time Review

,