Our favorite Marvel superheroes are back in Activision's Marvel Ultimate Alliance 2. The first game released back in 2006 and was pretty good, but the sequel has addressed many issues from the original and is a great improvement. A lot of heroes and villains return, as well as tons of new ones for comic fans to drool over.
Marvel Ultimate Alliance 2 picks up where the first one left off. After the defeat of Dr. Doom, Nick Fury, Iron Man, and Captain America head out to investigate Doom's castle. Betrayal will be made, and civil war breaks out amongst the heroes, as well as the villains.
Let's take a look on what's HOT and NOT in this game.
HOT
Alliance Versus Rebels. Choose Your Side.
The story of the game can be described in one word, AWESOME. For anyone who's an avid comic fan, the story can be compared to that of the recent Marvel Civil War event. This is one of the best stories I've seen in a comic based game, and kept me engaged for hours on end. In certain parts of the game you'll have to make certain defining choices. You can choose to join the Alliance, which is led by Iron Man and Mr. Fantastic, or the Rebels, led by Captain America and Luke Cage. However, no matter which side you choose the ending will be the same. The two sides offer different perspectives on the story, so it's best to play through the game at least twice to get the full story.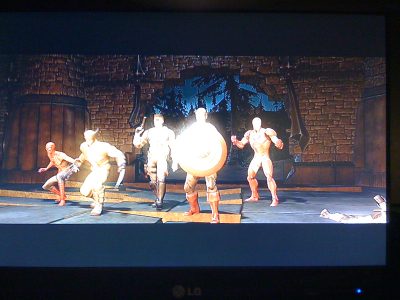 Presentation
Compared to the first game,
Marvel Ultimate Alliance 2
looks much better. The cutscenes are well done, looking much less like a video game and more like an animated feature.
Some of the voice actors from the first game make a return. Most of the character's voices are decent and fit the characters well. The soundtrack fits well and helps draw the player further into the deep world and in depth story.
Tons of Extras To do. Trivas, Dossiers, Character Profile, and More
Another great thing about this game is all the extra gameplay and content. You can take on the various Marvel trivia questions to test just how big of a fan you are. Answering the questions correctly will give you experience points. I myself sucked at this portion of the game since I don't know every Marvel characters except for Captain America, Spiderman, Wolverine and Hulk. Don't worry if you are like me because you can read the Dossiers that you unlock to boost your Marvel knowledge.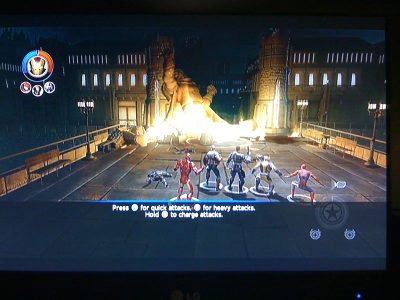 There are other bonus challenges that you can do such as beating a horde of enemies. Of course all these challenges offer more EXP which is then used to level up and boost skills.
Added Features; Fusion Attack, Boost Medals
Fusion attacks are easily the coolest new element added to the gameplay. There are three different fusion attacks, each one with it's own unique look and power. Fusion attacks help change up the battles a bit, and offer a nice bit of strategy, eliminating some of the button mashing.
Character strength isn't determined solely by level, but also by equipment known as boost medals. Boost medals are pieces of equipment that you can use to boost different aspects of your hero such as melee attacks or resistance to various elemental attacks. You can equip a maximum of three on any given hero, so it's a nice system to play around with and adds more depth to the gameplay.
Boss Fights are pretty tough.
The boss fights in the first game left much to be desired. Most of the time they were way too easy, almost insultingly easy, and offered little thought process beyond spam attack until you win. While that hasn't been entirely removed, the boss fights here do try to offer more of a challenge by requiring a bit more strategy in order to win. Still, spamming attacks will often go a long way in boss fights.
Online Co-Op
There's already a lot of replay value what with the two storylines and tons of unlockables. The online offers even more so and is actually pretty fun. Up to four people can play, and similar to Resident Evil, you can start a new game online or just hop into the storyline wherever you want. Nothing much has changed from the original, and that's certainly not a bad thing.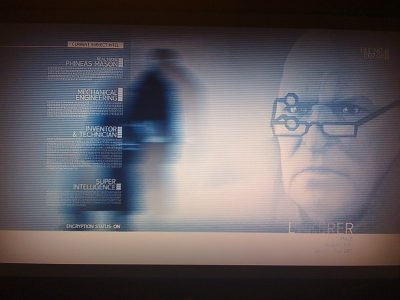 Downloadable Content Soon
There's already downloadable content planned for both the XBOX 360 and PS3 versions. As of now, I can't report much on the DLC since it's unavailable, but hopefully we'll get some extra missions or maybe even an expansion on the storyline
NOT
Fighting can get repetitive
This will come as a surprise to no one who played the original. Even with some of the new battle elements, the gameplay is still repetitive, fun, but repetitive.
VERDICT
Overall, Marvel Ultimate Alliance 2 is a very well done action RPG and a fun continuation from the original. Everything that you love about the first game has been improved and some new elements have added depth to the gameplay. This is a must buy for anyone who's a Marvel fan or a fan of the original game.
[Editor's Note: Marvel Ultimate Alliance 2 was reviewed on a PlayStation 3 platform. The game was provided to us by the publisher]
Marvel Ultimate Alliance 2 Review

,