The highest rated driving franchise of all time has finally gone portable with its latest installment, Gran Turismo Portable for the PSP.  Many were skeptical of the initial screenshots and videos. Saying it looked too good to be a PSP title andf that it had to be CG renders, boy were they wrong. But graphics are only part of the GT experience, how's the gameplay? GT has always been the most in-depth driving simulator on the market, but can its portable little brother match up to the console versions before it?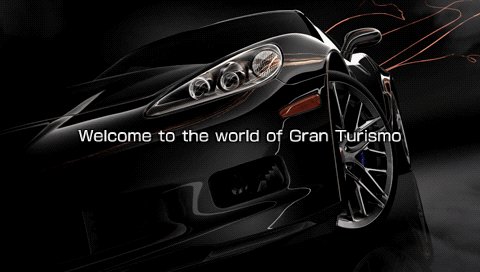 Let's take a look on what's the HOTs and NOTs of the game:
HOT
Presentation
The graphics can be summed up in one word, amazing. This game could easily pass for a PS2 title, the graphics and backgrounds are absolutely stunning. Locations include, Seattle, New York, Seoul, Tokyo, and a lot more, all rendered beautifully on the small handheld console. The game runs on 60 frames per second with no lag or hiccups between frames.
There are a total of 45 tracks available in the game and you don't have to unlock any of them. They're split into four categories; Real Circuits, City Courses, Original Courses, and Dirt & Snow. Some cares however are unavailable on certain tracks.  There are some similarities to track from previous games, but all have  been redesigned for the PSP.
800 Cars Available
The Gran Turismo series has always delivered the most cars in a game, and GT portable looks to keep with tradition by offering 800 cars. The Dealers opens their shops based on the in game date, and only certain dealers will be selling their hot cars on certain days. The cars available for purchase look phenomenal, the amount of detail put into each and every car is just stunning.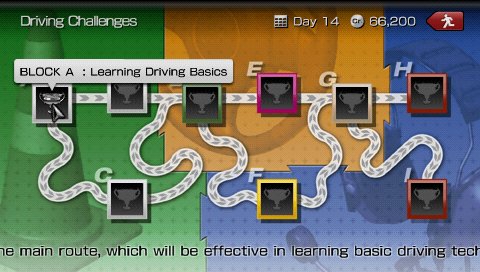 Driving Challenge Gets you more Credits!
Just like past GT titles, you will need credits to purchase a car. In order to get credits, you have to complete the driving skill challenges in single player mode.
There are different levels and challenges; and they're all categorized by letters. From challenges like Driving through consecutive S curves to braking in unstable conditions, there's plenty of challenging and unique ways to earn credits. The trophy you're awarded after completing a challenge determines the amount of credits you earn.  There are bronze, silver, and gold trophies, each one with it's own amount of credits. However, if you can manage to snag a gold trophy, you'll be awarded all the credits for all three trophy levels.
Ad-Hoc Multiplayer Support + Share/Trade Cars
Multiplayer has always been a bit part of Gran Turismo and things are no different here. Up to four people can play locally and not only you can play with them, you can also trade your car collection or just share it with them. Trading cars is great, especially if you have a certain car your buddy wants, and vice versa. When played locally, you can play the same challenges and tracks from single player mode, so you and your friends can compete to see who's the best at any given challenge.
NOT
Something is missing in Single Player Mode.
For players not interested in driving challenge mode, other single player games are available. Drift Trial, Time Trial and Single Race are the other gameplay options available in single player mode. Take a look at that, GT fans will quickly see what's missing, career mode. Every past GT game has offered a career mode of some sort, but not here. Rather than having to play for hours in career mode, GT portable allows the player to progress a their own pace, this works since the game is on a handheld and not a console, but some type of career mode would have been nice.
Customizing Cars is Weak
One of the things that lacks in Gran Turismo PSP is ability to customize your vehicles. Unlike past versions, being able to fully customize every aspect of your car isn't possible here. Players will only have the option to quick tune the spring rate, damper, camber angle, and the ride height. For the gear heads out there, this is sure to be a let down since GT has always been more about getting a car and building it up and not simply buying the best using credits.
No Infastructure Support
Ad-Hoc support is a great feature, but it only allows gamers to play locally with their friends. Gran Turismo is a game that has needed online support for a long time, and it's unfortunate that despite being online enabled, the PSP will not have an online version of GT.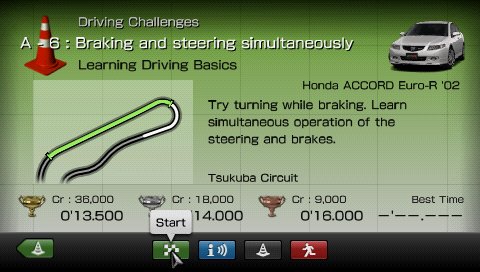 VERDICT
Polyphonic Digital and Sony Computer Entertainment did a fantastic job bringing such a big series to a portable system. Sure infastructure mode is not supported, and the game lacks a proper career mode, but the overall Gran Turismo experience is alive and well.  Despite its flaws, Gran Turismo PSP easily the best and most complete handheld racing game on the market.
Gran Turismo PSP Review

,