As I've said many times before, anime games are largely about wish fulfillment. Fans are generally happy if they can play with their favorite or as many characters as possible. This doesn't always make for a good game, but it can make for a satisfying experience. Gundam Versus puts a lot of emphasis on selection, something that should make fans happy. Though, given the pitfalls of anime games, is Gundam Versus a lackluster game with plenty of options or is it a satisfying experience that is a must for Gundam fans?
To put it simply, Gundam Versus is basically an online fighting game with a couple offline modes. For starters, there is no story, explanation or reason for these units to be fighting, leaving a couple very simple modes.
The first mode is ultimate battle or survival. Here players fight various enemies, between 15 and 50, with the option to take on 15 bosses. Waves start off slow, with units that can be one hit and quickly ramp up. To help players survive, there is the option to have either an AI teammate or invite a friend to play.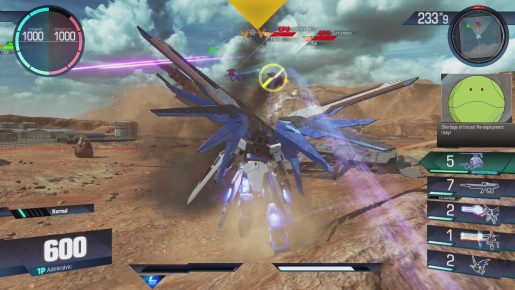 If survival isn't your thing, trial battle is basically an arcade mode. This mode has 10 levels at various difficulties, where you need to defeat enemies and overcome obstacles. Later stages have branching paths, meaning you can avoid certain fights, making for a good introduction to the mechanics. Each run is also timed and scored, so those looking to improve can try to lower their time or increase their score.
The final offline mode is free battle, where you freely battle. Unlike the other modes you can change the settings, so you can edit how quickly the burst gauge fills, among other things. Teams, units and more can be freely changed, making for a great mode to practice under certain conditions or specific units.
Online is a more straightforward. The three modes include ranked, casual and player matches. Ranked is obviously geared towards more hardcore players looking for glory in the field of battle, where as casual is just fun with others. Up to three players can work together to win, making for a hectic or tense experience, depending on what you select. Player is essentially custom, allowing players to ideally find similar opponents to increase their skill.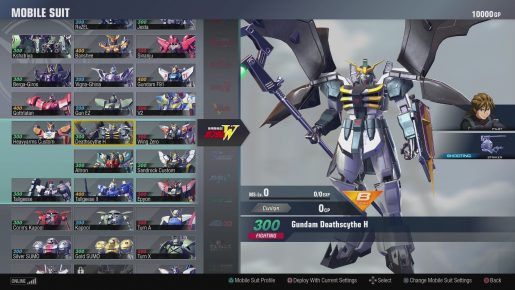 With so few modes and a handful of maps, it probably comes as no surprise the main attraction is the wide range of units. With over 100 units, Gundam Versus has plenty to choose from. Every unit has their own play style, quirks and elements to master. While there is some overlap, like most, if not all, of the units have a melee and ranged attack of some sort, how they play will differ greatly.
Some units have charged attacks, large lasers, fast hitting blasts, elaborate grabs and much more. The best way to put it is, think of what makes that unit special, add something so they can survive at any range and you have most fighters. This wide selection can make gameplay feel shallow, as there are only so many attacks and way a unit can move, but the selection and attention to detail will make fans happy.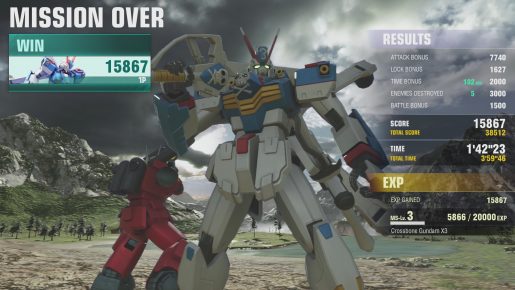 With so many units and over 20 series represented, a couple of odd series were excluded. Probably the most notable is Mobile Fighter G Gundam, one of the more notable Gundam series in the west. Having been a staple in many crossovers, including Super Robot Wars and previous Gundam VS titles, it was left out to highlight other series. There is still hope it might be included as paid DLC, but that is a dream for now.
Verdict
Gundam Versus is centered around having as many units, pilots and so forth that it's hard for fans to say no. Sure, a couple exclusions, such as Mobile Fighter G Gundam, hurt, the overall product has plenty to make up for it. However, if online multiplayer is not your thing, odds are you won't get a lot of value out of Gundam Versus. Likewise, anyone expecting a deep fighting game will be disappointed. There are certainly elements that make Gundam Versus deeper than the average anime fighting game, but overall every character has a handful of attacks and only so many options.
[Editor's Note: Gundam Versus was reviewed on PS4 platform. The game was provided to us by the publisher for review purposes.]
Gundam Versus Review

,