FIFA 18 Review
Good: Fun Factor, Visually Stunning, Lot Of Improvements, Fluid Gameplay
Bad: Lame Commentary, Same UI, Alt-Tab Rage-Quitting
User Score
9.5
(2 votes)
FIFA 18 is the brand-new iteration of the iconic football video game franchise from EA Sports. The game once again uses DICE's Frostbite engine and is available of a whole host of platforms including: PlayStation 4, Nintendo Switch, Xbox One, Xbox 360, PlayStation 3 and Windows PC. New features have been included, as well as a range of upgrades and improvements from last year's game. However, has FIFA 18 done enough to be a must buy for yet another year? Let's find out!
The most noticeable difference of FIFA 18 to previous iterations in the series is the new kick-off mechanics. No longer do two players stand in the centre circle ready to tap the ball, and get the match underway. Instead one player takes his place at the centre of the pitch ready to pass the ball backwards to his team. It is a minute change but seems to avoid the awkwardness of kick-offs and gets the game flowing that bit nicer.
Once the game is flowing you can see the bigger change to FIFA 18. Movement is very much more momentum based than ever before. Go in for a dodgy slide tackle, that takes a player out of position, and he won't be getting back to help any time soon. Conversely, if you can start that defender sprinting a split second early he can more comfortably catch and, most importantly, clear the ball.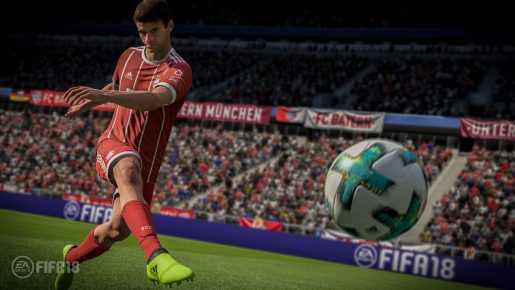 In past versions there was only one stat that truly mattered to gamers, pace. Pace is still a drastically necessary stat, in a sense of getting ahead of the opposition but strength has become a very close second. Via extremely rough maths I'd be confident to say I've managed to shrug off more defenders/attackers in the time since launch of FIFA 18 than I did in a month of FIFA 17. The ability to muscle through isn't quite there but when it comes to a 1 on 1, closing down a ball, you can send the other player flying via a shoulder barge. Just be careful as I've already given a handful of penalties away by doing this.
Within an hour the consistent issue with FIFA games had surfaced its ugly head. It may be a result of my inability to defend, or luckily ability to score, but the commentary team had already run out of original things to say. Before long it becomes a bit of an immersion breaking aspect of the game. Especially, when it is the 5th, 20th, 100th time you hear that it has been a great game for a neutral, described as a goal fest. This issue is most present in the multiplayer game modes and is interestingly not as prevalent in the singleplayer modes, especially during The Journey.
The commentary team does pick up somewhat for the singleplayer game modes. In Career mode they discuss on-going sagas in the transfer windows and other match results, on top of the usual anecdotes. This adds to their repertoire and it almost makes me wonder if they could fake this for online modes, rather than repeatedly comment for every goal if you are going to win or lose the league.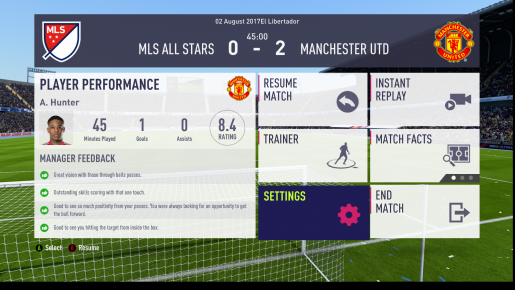 One incredibly nice touch that some may not notice is related to Alex Hunter. Without giving too much away story wise, if you score in a game when the fans and club aren't happy with you the team reacts differently. After scoring instead of flooding towards you in celebration you're left to cheer on your own… Poor Hunter. This is like a cutscene has been woven into the actual game and helps drive the believability of the story. It would be great to see EA use this coding for players whom look like they might move clubs in real life during the mid-season transfer window.
The Journey was almost a surprise when EA announced it for last year's instalment. This time around Hunter Returns to continue his football career. For those that enjoyed the first season things get better. Once again players get to choose the club they play at and then the story unfolds. It has some unexpected twists and turns. The writing won't be winning story of the year but it does a great job of making you want to know what happens next. This is driven through the cutscenes that energise the pose and add the emotion of the storyline. Players get some choice in things with a few minor choices and a big one or two for you to make. If you weren't a fan of the first season of Alex Hunter's Journey maybe just stick to the other game modes, it has a similar style.
FIFA 18 Review

,