Namco Museum (Switch) Review
Good: Includes Pac-Man VS., the big three are included, online leaderboards, multiplayer can be played with only one copy of the game
Bad: Manu is bound to R, making it very easy to hit when using a Joy-Con; no online for things like Pac-Man VS.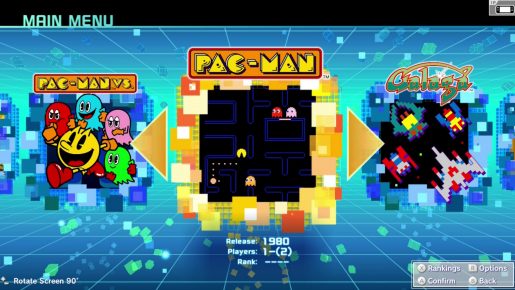 Part of what makes certain arcade games timeless, is the low skill entry and endless replayability. Players don't need a tutorial to understand Pac-Man, nor is there much to explain. Move in the direction you want to go, avoid ghosts, eat pallets and the four larger pallets let you eat the ghosts for a brief period of time. Despite the simplicity, mastering these games take time and practice, with the high score giving players something to always work towards, be it beating someone else or just improving as a player. These elements are the foundation for what makes a game like Namco Museum so appealing. Will these timeless games continue to offer value to players or is the market oversaturated?
Namco Museum starts by offering the three big arcade titles, Pac-Man, Dig-Dug and Galaga. All three of these titles are there in their full glory. So whether you want to pop some enemies or shoot down some ships, you can do so with confidence. Galaga '88 is also included if you want a more modern version.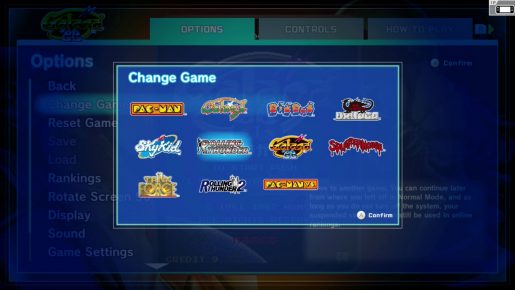 Joining them are other classic and niche Namco games, including Splatterhouse, both Rolling Thunder titles, SkyKid, Tank Force and The Tower of Druga. These titles, like the aforementioned games, are really simple, making them easy to start, finish and improve.
Splatterhouse is a horror game where you move forward and punch down enemies to prevent taking damage. Rolling Thunder requires players to walk, jump and shoot their way through a number of locations. SkyKid is a side-scrolling flight game where you avoid enemy attack and destroy hostile forces. Tank Force asks players to control a tank, hunt down enemy tanks and defend your home base across a number of levels. Finally, there is The Tower of Druga, a game where players navigate around, fight enemies and proceed to your goal.