Planet Coaster Review
Good: Creativity Can Flow, Steam Workshop Integration, Nostalgic Feel With Modern Mechanics
Bad: Feels Like Some Features Are Missing, Fiddly Paths
User Score
10.0
(1 votes)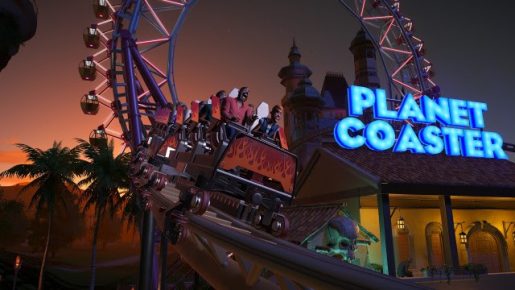 From the start, Frontier has been showing off some incredible looking Planet Coaster content. Complex rollercoasters with twists and turns, made via a piece by piece builder. Fully themed parks with purposely designed buildings to sell items, including burgers, balloons and hats. Great parks ready for players to dive into, full of hills, ravines and even great colossal trees. Thankfully, the game doesn't disappoint and we have previously only been treated to a glimpse of what Planet Coaster offers.
One of the best bits has to be that these carefully designed objects, shops and coasters can all be recreated by players, using the in-game tools. Gamers have adopted the creation tools and have built near perfect replicas of real world coasters and some incredible scenery pieces: the best of which has to be a recreation of the Millennium Falcon.
There are limits to what players can create. There are a lot of objects for players to utilize when theming buildings and customizing scenery. Some will be more useful than others but plenty of variety is already in the game. It would be nice to see in future updates some additional objects to spur on the creativity of the community.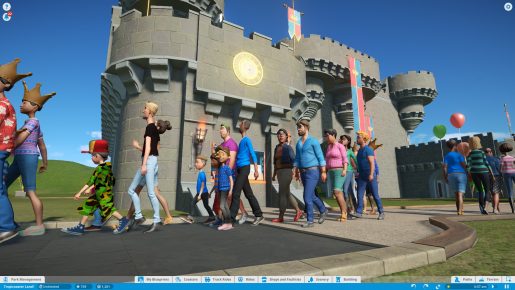 One major limiting factor is that a large percentage of the objects in the game are snap to grid only. This can cause some early confusion and frustration, as players learn the rules and limits of the building tools: which objects they can freely place, rotate, color and clip into other pieces and those which cannot. Once past this initial learning curve, players will soon start to see the potential of the tools at their disposal. However, I wouldn't be surprised if some give up using the fiddly tools and instead venturing to the Steam Workshop to download other players' Blueprints.
Creating a wonderful scenery piece or building can take some time. I spent approximately 5 hours creating the castle you can see screenshotted in this review. The intricate details were surprisingly not the longest part of the build. Instead, using stone wall pieces to create an arch, which house the portcullises, took the longest due to the small angle changes.
This is time which many players can simply not afford to spend on the creation of a single, albeit large, building. This is where Steam Workshop takes center stage. Already there are hundreds of coasters, shops and scenic Blueprints to download. The process is straightforward both ways. Uploading takes only a minute or so, choosing an image and adding some details about the creation. Downloading is even easier. Find something while browsing the Workshop, subscribe to it and the next time Planet Coaster is launched the Blueprint will have been downloaded for you and will appear in game.
Planet Coaster Review

,