Over the years, Omega Force has found a lot of success applying the Dynasty Warriors formula to other series and franchises. This worked fairly well for Mobile Suit Gundam and Hokuto no Ken, but not so much for One Piece. The first Pirate Warriors was too barebones and the sequel added a lot, but it wasn't quite enough. Now that One Piece: Pirate Warriors 3 is out, is it a must have title for fans or is it another step towards the game people want it to be?
One Piece: Pirate Warriors 3 covers the story from the beginning where Luffy meets Shanks and obtains his iconic straw hat and goes all the way to the current Dressrosa arc. Even though there is a lot of story to cover, One Piece: Pirate Warriors 3 does a pretty good job of hitting the highlights. It isn't to the point where a newcomer can play and get a complete understanding of the story, but it is enough where you get an idea of what is going on. Minor characters like Kuro get some spotlight and there are side events that contain some dialog or information that fill in some of the blanks or highlight some aspect of that section of the story.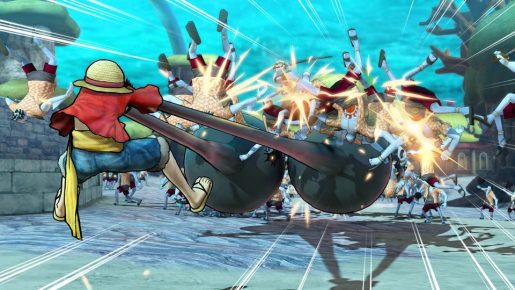 While One Piece: Pirate Warriors 3 does an adequate job covering the story, it still feels way too much like a Dynasty Warriors game. The average mission is fairly long and basically boils down to moving from place to place defeating high-ranking enemies to capture territory. Throughout the mission you'll receive various events that require you to do something. Some of them are optional, such as preventing someone from escaping or defeating an enemy within the time limit, where as others are not, such as destroying gates. All these things offer a nice change of pace, though they're usually little more than a different way to go about defeating a bunch of enemies.
Even the two main modes, legend and dream log, just go about the basic idea slightly differently. Legend log holds true to the story with cutscenes and events based off the plot, where as dream log is the same thing, but in made up scenarios and the dialog-taking place during the fight. With that being said, One Piece: Pirate Warriors 3, takes some good things from Dynasty Warriors too.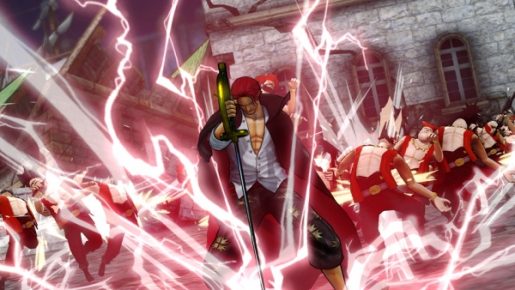 Arguably the best thing about One Piece: Pirate Warriors 3 is the robust roster of playable characters. These include obvious choices like Luffy, Zoro, Sanji and the other members of the crew, but also include niche characters, such as Tashigi or Marco. Sure there are some characters that feel redundant and they all pretty much play the same way, but the ability to play as a vast array of characters fans know and love is one of the selling points for games like this.
Another highlight is how One Piece: Pirate Warriors 3 goes about progression. Instead of having to grind each and every character to make them viable, you can use cash earned from missions to purchase levels up to bring other characters up to your highest level characters level. In addition to paid advancement, coins you collect during missions can be used on various characters to make them more useful. So if you want to deck out Law before you use him, you can do so without any grinding or additional effort.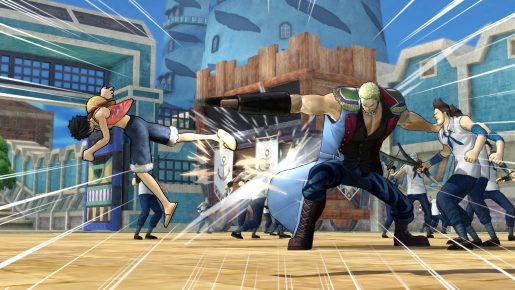 Speaking of effort, One Piece: Pirate Warriors 3 tries to encourage replaying missions to unlock all the legend points. These are awarded for doing specific tasks, playing the mission a certain way and things of the like. What's nice about these is that they give you something to shoot for besides simply grinding for coins or simply playing as random level for the sake of doing it. Plus they unlock a neat picture related to the mission/area in question.
In the end, One Piece: Pirate Warriors 3 is exactly what you would expect it to be. It's basically just Dynasty Warriors retooled for One Piece. While this isn't necessarily a bad thing, it also isn't exactly uncharted territory either. Every character has a couple of combos and a few specials that you'll use to dominate AI that is dumber than a sack of hair. This is more than enough to enjoy the story or screw around with if you got some time to kill, but unless you're a huge fan of One Piece or Dynasty Warriors, there isn't anything for you to see here.
[Editor's Note: One Piece: Pirate Warriors 3 was reviewed on PS Vita/PS4 platform. The game was provided to us by the publisher for review purposes.]
One Piece: Pirate Warriors 3 Review

,