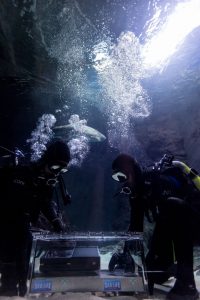 This is no joke, but an Xbox One console is being guarded by sharks in a New Zealand aquarium.
The Xbox One console is going to be the first "official" unit to be sol to lucky person in New Zealand. New Zealand will be the first country to officially be able to buy an Xbox One console come November 22nd. 12 other countries will also receive the console on that date too.
The console can be seen at Auckland's Kelly Talton's which is an underwater exhibit. Don't worry, the unit still works even though it has been submerged underwater! For now, the sharks are making sure it is kept safe.