Tales of Xillia – Grade Shop Detailed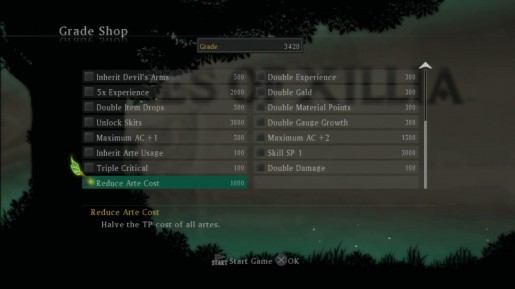 Similar to other Tales' New Game Plus option, Tales of Xillia encourages those who finishes the game to replay the game again with added bonuses on their second playthrough.
Upon finishing the game, the Grade Points you have on your first playthrough can be used on the Grade Shop to buy some unlocks for your second playthrough. Those who wish to make things easier on the second playthrough, you can use your hard earned Grade Points to buy things like "Inherit Full Levels" that allows you to carry levels from your clear data to the new game.
If you are planning to play the game for the second time, here are the things you should need to know when it comes to the Grade Shop:
Grade Shops
Inherit Half Levels – 2000
Inherit Shop Levels – 2000
Max Item Capacity: 99 -1000
Inherit Consumable Items – 300
Inherit Fashion Items – 200
Inherit Special Items – 200
Inherit Devil's Arms – 500
5x Experience – 2000
Double Item Drops – 500
Unlock Skits – 3000
Maximum AC +1 – 500
Inherit Arte Usage – 100
Triple Critical – 100
Reduce Arte Cost – 1000
Inherit Full Levels – 5000
Max Item Capacity: 30 – 500
Inherit Gald – 1000
Inherit Material Items – 500
Inherit Accessory Items – 700
Inherit Skill Items – 2000
Double Experience – 300
Double Gald – 300
Double Material Points – 300
Double Gauge Growth – 300
Maximum AC+ 2 – 1500
Skill SP 1 – 3000
Double Damage – 100