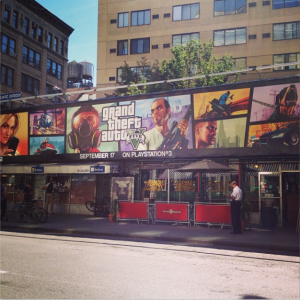 A huge official advertisement for Grand Theft Auto V shows the game as a PS3 exclusive.
This is an official Rockstar banner as it covers lots of space in a New York street. This seems very odd considering Grand Theft Auto V is a multiplatform video game and will be released on the Xbox 360 as well come September 17th.
Gameranx reports that this could be a partnership between Sony and Rockstar. It's possible Sony paid all the money for the advertising space in New York City.
It's also worth mentioning that the first gameplay trailer was shown on the PS3 version while there's a Grand Theft Auto V PS3 bundle coming out too. There's no official Xbox 360 bundle for the game however…