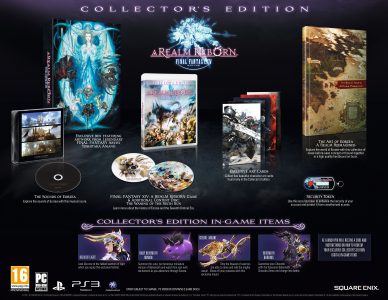 In just several days, the much anticipated Final Fantasy XIV on both the PS3 and PC will finally launch worldwide. If you still haven't purchased a copy yet, you can still do so on both digital and physical standard versions, but don't expect to see the physical Collector's Edition anywhere as all stores are sold out.
As a recap, the Collector's Edition of Final Fantasy XIV includes the following items:
The Art of Eorzea – A Realm Reimagined
The Waning of the Sixth Sun – Bonus Disc
The Sounds of Eorzea
One Time Password, additional security key
5 Exclusive Artcards
Exclusive In-game Items, including: Warrior of Light Helmet, Mini Behemoth Companion, Coeurl Mount, and Behemoth Chocobo Armour
Gamers who are really desperate and want to buy the Collector's Edition regardless of how much it costs, there's one place you can do so and that's eBay. Currently, the lowest price you can buy the Collector's Edition on PS3 is at $139.99, which is twice the amount of the original price.
Final Fantasy XIV: A Realm Reborn will be available this August 27th on both PS3 and PC. Those who prefer to do digital pre-orders can now do so via PSN, Amazon, or any game retailers. Don't forget the beta starts this weekend and early access next week, August 24th.