Buy 2 Kirby Titles and Get One Free On the Nintendo eShop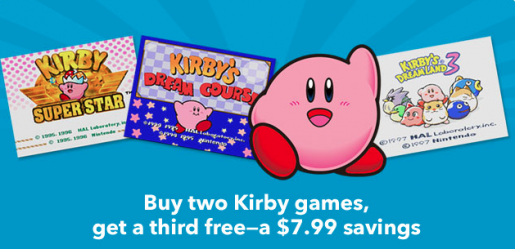 In honor of the launch of three classic Kirby games on the Wii U, Nintendo is doing a special sale where you can get one for free by buying the other two. These include Kirby Super Star, Kirby's Dream Land 3 and Kirby's Dream Course, so it's not a bad deal if you're a fan or really wanted to try out the original titles. Each game will run you $7.99 or $14.98 for all three and the deal till run till May 30th.
No word on future plans, but we could be seeing similar offers on classic games, which would be great for reliving some classic Nintendo games.