BattleBlock Theater – How to Unlock The Behemoth Chicken Head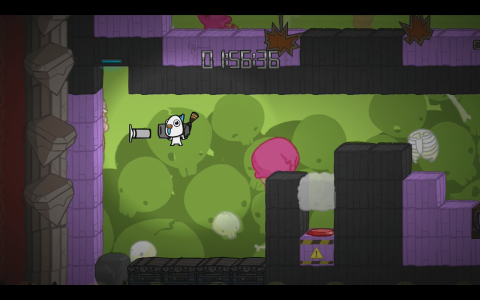 With BattleBlock Theater now out on the Xbox 360, plenty of people are trying their luck at unlocking all 300+ characters in the game. However, some characters like the Knight (needs Castle Crashers data) and Alien (needs Alien Hominid data) have additional requirements to unlock. While most of these characters are currently a mystery, the requirements for at least one of them was discovered, which is a chicken head in honor of The Behemoth logo.
If you would like to unlock the head yourself, simply complete all of the Furbottom's Feature stages (encores not required) and you'll unlock the head, plus an avatar item! However, be warned that some of these stages can be pretty difficult without playing through the game, so make sure you have some experience before trying. Additionally, since most people seem to get stuck on the final Furbottom stage, I made a quick guide on how to do the second  final fur stage.