Sony Releases Multi-Use Code for Playstation All-Stars Pre-Order DLC [Updated, New Code]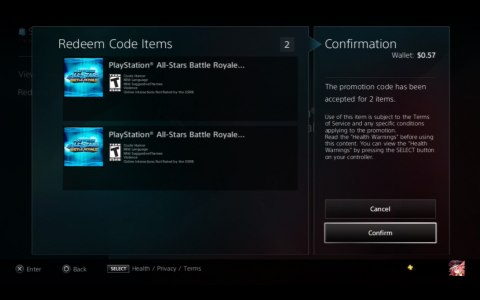 With Playstation All-Stars Battle Royale finally out in the US, Sony has released a multi-use code for the preorder DLC. For those of you that don't know, this code will unlock a new costume for all 20 playable characters. This code also unlocks the Vita pack, which didn't seem to come with actual preorder codes.
For those interested in getting the costumes, simply enter 2H2C-DQNF-5TM6 on the Playstation Store and you're set. No word on when or if this code will expire, but I strongly suggest doing it now over later.
[Update: Code is no longer valid.] [Update 2: New Code:
K3KR-C5N2-D3DP
] [Update 3: New code is dead.] [Update 4: New Code
CA95-BFN2-7DRP
First 500, so act fast!!!] [Update 5: New code is dead.]