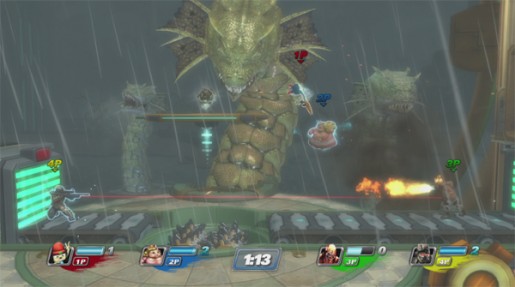 PS3/PS Vita Cross Play
If you have bought the game on the PS3, you should have also received a free copy of the game for the PS Vita as well. Having played both versions, I must say that the PS Vita version is identical to its PS3 cousin. The graphics and controls are virtually the same which is a good thing for handheld gamers.
Another thing it offers is cross play. This means PS Vita owners can play against PS3 owners of the game at any time whether they are online around the world or even at home.
Not
Lack of Female Characters
As much as I liked the roster in the game, I couldn't help but notice that there is a severe lack of females that are in this game. The only two that included are Fat Princess and Nariko from Heavenly Sword. I don't think either of these characters are well known compared with other female video game characters that could have been added.
The game's roster could have been even more diverse if Lara Croft was here. Also Tekken's Nina and maybe Tifa from Final Fantasy VII could have kicked ass in this game too. Metal Gear Solid's Meryl could fit into this game nicely as well or even Street Fighter's Chun-Li.
Although they are not female characters, it's sad to see that Crash Bandicoot and Spyro the Dragon aren't here as well. They were two of the most iconic characters back in the PSOne days.
Fast Pace
Unlike traditional fighting games, PlayStation All-Stars Battle Royale can have up to four players fighting it out all at the same time. This means the camera will zoom out and accommodate the fast-paced action that may not be easy for some gamers to keep up. When you are against the A.I., the pace quickens even more as they love to jump around all of the time and it might be hard for some people to see what they are doing.
Verdict
PlayStation All-Stars Battle Royale may not introduce many new features to the fighting game genre, although this does not mean it's not a fun game to play. The fast pace may not be to everyone's taste, but it can still be fun if you're playing the game with a bunch of friends. Despite the lack of females in the game, the other characters are fun to play as and most PlayStation fans will love the number of cameos and other easter eggs that are featured here too. Overall, a fun game for any long-term PlayStation fan.
[Editor's Note: PlayStation All-Stars Battle Royale was reviewed on the PS3 platform. The game was provided to us by the publisher for review purposes.]
PlayStation All-Stars Battle Royale Review

,