New Little King's Story (PS Vita) Review
Good: Enhanced Graphics, Explore the World, Different Jobs Matter, Fun Combat
Bad: They Call This a Story?, This is $40 Dollars?!, More Characters = More Lag
User Score
9.0
(6 votes)
NOT
They Call This a Story?
If you're looking for a good story, then New Little King's Story isn't for you. This is because the story revolves around the king concept so much, that it feels like you're just running your own kingdom. Almost the entire dialog is about making people happy, adding land to your empire or something in this general area. Around the 4 hour point you will start to see an actual story, but those parts are far and few between.
This is $40 Dollars?!
Despite the games name, New Little King's Story is more like Little King's Story 1.5. This is because it's a remastered version of the same game, but with a different story line. If this confuses you, it basically has a fresh coat of paint with the characters saying different dialog. Even if you overlook the fact it's basically an HD remake of the original, the lack of voice acting is a huge turn off. Sadly it just falls short of other Vita RPGs, like Disgaea 3 or Persona 4 the Golden, which is a real shame.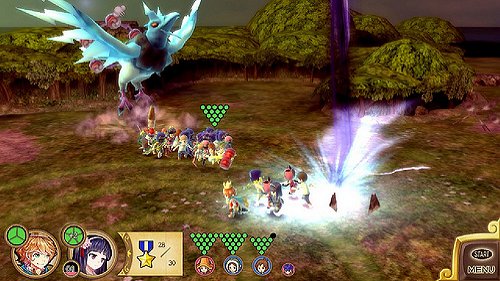 More Characters = More Lag
As you progress through New Little King's Story, you will gain the ability to bring more partners with you. However, when you hit about 16 people, the game feels more sluggish than before. It's hard to put into words what happens, but the game just feels noticeable slower with too many troops. Thankfully it doesn't affect controls, combat or gameplay, but it's nowhere near as fluid as Army Corps of Hell with 100 peons.
Verdict
New Little King's Story has some problems, but it's also quite addictive too. With a decent amount of story content, plenty of places to explore and dozens of quests to play, it's a fantastic pick up and play title. Even after finishing everything, you can collect new equipment or start a new cycle and rule a different kingdom. Sure the lag and cost can be a turn off, but if you're into this sort of thing or a fan of the original, then you most likely won't be disappointed.
[
Editor's Note:
 New Little King's Story was reviewed on the Playstation Vita platform. The game was provided to us by the publisher for review purposes.]
Page 1 2
New Little King's Story (PS Vita) Review

,