Deadly Premonition: The Directors Cut Coming to PS3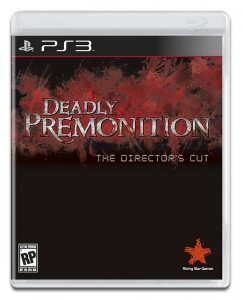 Coming soon, the "Most Critically Polarizing Survival-Horror Game" Deadly Premonition will be receiving a Director's Cut iteration. This version of the game will focus on the story of Francis York Morgan, an FBI agent investigating a murder in the town of Greenvale. In this story the player will find themselves attempting to solve the murder mystery and discover creepy new creatures that have surfaced across town.
On top of the above, Deadly Premonition: The Director's Cut will include a variety of new features including but not limited to HD graphics, an updated control system, a brand new scenario from the game's director, Hidetaka "Swery" Suehiro, and DLC to keep the mystery going once you complete the main campaign." No release date or price have yet been revealed for the game, but they won't likely be too far out as far as announcements.