WWE '13 Collector's Edition Detailed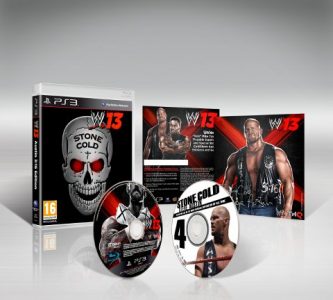 Well this week is already shaping up quite well. Coming off of last night's Money in the Bank event, today sees the reveal of the WWE '13 collector's edition.
This year, Stone Cold Steve Austin will be honored by receiving his own "Austin 3:16″ collector's edition of the game. The collector's edition will be made available for the Playstation 3 and Xbox 360, and the contents are listed below.
Exclusive foil packaging featuring embossed "Stone Cold" Steve Austin skull
Exclusive collectible art card personally autographed by "Stone Cold" Steve Austin
Exclusive "Stone Cold" Steve Austin in-game attire: red skull T-shirt (circa 2001)
Exclusive "Stone Cold" Steve Austin in-game ATV ring entrance
"'Stone Cold' Steve Austin: The Bottom Line on the Most Popular Superstar of All Time" (DVD/Blu-Ray)
Disc No. 3 in series (exclusive to PlayStation 3 system customers in North America)
Disc No. 4 in series (available to Xbox 360 customers in North America, as well as PlayStation 3 system and Xbox 360 customers throughout Europe and Australia)
Copy of "WWE '13″ videogame
Access to WWE Hall of Famer and "WWE '13″ global pre-order offer Mike Tyson playable character
The game is currently planned for October 30th of this year, with the collector's edition set to be priced at $79.99 USD. Pre-orders are currently available at the THQ Store or the WWE Shop (not yet listed)