Orcs Must Die! 2 Review
Good: Great gameplay. Tons of replay value, Presentation, Great voice acting
Bad: Co-op centric
User Score
8.3
(6 votes)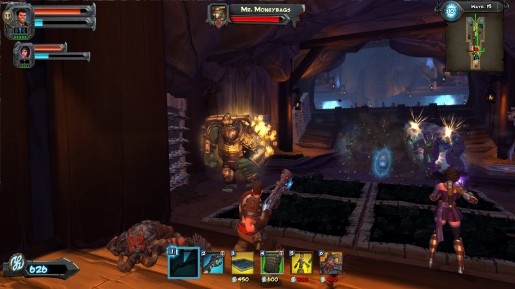 Presentation
Orcs Must Die! 2 features an overall better presentation than its predecessor. You can trade levels that were designed in castles and manors for darker levels in tunnels and mines. Orcs Must Die! 2 uses the same art style that was featured in the first game but this time around, it has matured a lot more in the fact that a lot of time was spent making it look a little bit better.
The spellbook has gotten a major overhaul as well. It now makes upgrading a weapon or a trap a lot more easier to do. Also when you open the spellbook each piece of gear is broken down into different categories. That way when you are looking for something specific you know where to go. It is a small upgrade, but it is something that has been asked for.
Voice Acting
If you played the first Orcs Must Die!, you remember the War Mage. He is a dimwitted orc slayer with a very cocky attitude. Well he is back and this time he brings along The Sorceress who was the antagonist from the first game. The banter between these two make for a very enjoyable experience.
The War Mage loves to tell jokes and whenever he places a trap down you might get a joke like "Orc! The other, other white meat!" A lot of the lines are reused from the first game, but there is some new dialogue for him. The Sorceress on the other hand not only has all new dialogue, but she is a bit more wiser as well as a little bit more serious. However, she does have a bit of a cocky attitude herself. If you place down an ice trap she'll say something like "Is it a little chilly in here."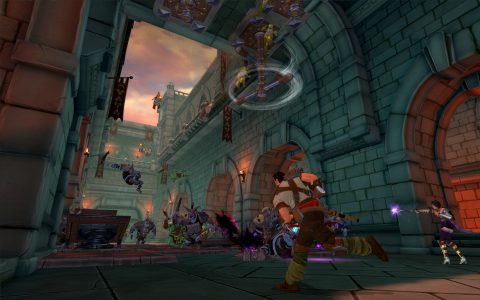 NOT
Co-op Centric
Saying a game is too co-op centric does not sound like a bad thing, but with Orcs Must Die! 2 it is. The inclusion of Co-op burns the people who like to play single player. Not in the fact that they don't have anyone to play with, but in the fact that the game is way too difficult without a friend. If you do decide to play on single player you will often find your self on the third or forth wave of a level with half of your rift points gone. This is not the case with all levels, but with most of them it is. If you do decide to play with a friend the game can be a cakewalk on the normal difficulty with it only getting harder in the later to last levels.
Verdict
Orcs Must Die! 2 is a worthy sequel to a great franchise and hopefully we might see more games in the Orcs Must Die! series. If you love tower defense games, and you love to play with friends there is no reason why you should no pick this game up. This game is worth more than the $15 that Robot Entertainment is charging. If you do plan to play with a friend you should pick up the 2 pack offer for $25,
[
Editor's Note:
 Orcs Must Die! 2 was reviewed on the PC. The game was provided to us by the publisher for review purposes.]
Page 1 2
Orcs Must Die! 2 Review

,