Jet Set Radio HD Achievements Revealed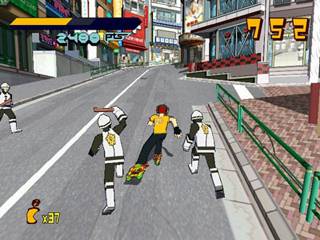 With Jet Set Radio releasing sometime this summer, many gamers were wondering what the achievements would look like. Thankfully this is no longer the case, as the achievement list has finally been revealed. While this is great for Xbox gamers, how this will affect PS3 gamers isn't currently known.
If you would like to check the list out, you can find it below.
Back to the future (10) – Unlock all songs in the bonus menu
Number one artist (20) – Use all graffiti in missions
A working senior (20) – Unlock Goji and use him as a player character
Dog runs too! (20) – Unlock Pots and use him as a player character
Love rules (10) – Unlock Love Shockers and use her as a player character
Noise music (10) – Unlock Noise Tank and use him as a player character
Behind the mask (10) – Unlock unmasked Poison Jam
Rise of Monsters (10) – Unlock Poison Jam and use him as a player character
I need a parachute (5) – Fall more than 20 meters off a building
Look behind (5) – Perform a Turn Trick in game
Unlock Garam (10) – Unlock Garam and use him as a player character
Cops suck (10) – Draw graffiti 5 times on Onishima's back
King of the street (10) – Complete all missions with any rating
Feel the beat (5) - Start game for the first time
Tag you're it! (10) – Tag out at least one rival gang member within 30 seconds
Detached (20) – Finish the game without anyone latching onto you with your first attempt
Public menace (10) – Make 100 civilians jump out of your way
Scrapyard bully (5) – Shove the two civilians in No.540 level before the choppers show up
That's how we grind! (10) – Perform a 100+ trick combo
No Eyes in the Sky (10) – Draw graffiti 5 times on Helicopters
The gang's all here (20) – Unlock all characters
Remixes suck! (5) – Complete a level without collecting a Recovery Spray Can
I got Soul (50) – Collect all Graffiti Souls
When you're a Jet (50) – Complete every level with Jet rating
So creative (10) – Create a graffiti in all sizes
Training wheels (10) – Complete Tutorial
First coat applied (10) – Complete Chapter 1
Second coat applied (10) – Complete Chapter 2
Paint the town red (10) – Complete Chapter 3
We got us a crew (5) – Unlock Gum and Tab