Special Gravity Rush Concept Art & More
With Gravity Rush releasing early next month, the people at Sony are beginning to build hype for the game. Today, they have released some new concept art, as well as a pretty cool concept movie. Yoshiaki Yamaguchi, the art director for the game discussed the art styles in the game, including the overall, as well as the minor details of design. It's certainly fascinating to read about how such a unique game has come to be.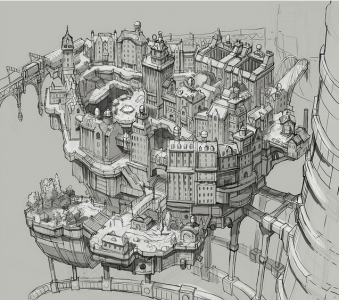 Gravity Rush uses a line drawing method to "exaggerate buildings and allow them to be more easily recognized". The developers working on Gravity Rush also implemented a living background type of idea into the game. The ultimate goal of the developers was to make it so that backgrounds weren't simply backgrounds, but actually a gameplay element. Yamaguchi has provided a video of Gravity Rush in its early stages, which is quite interesting. Head over to the Playstation Blog to check out the full scoop, as well as the concept movie. Gravity Rush is set to release for the Playstation Vita on June 12th in North America.