Tales of Xillia Trademark Found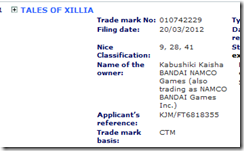 Back when Tales of Graces f was announced, many gamers had hopes of seeing additional Tales titles. While Vesperia is still in limbo, it would seem Siliconera found a trademark for Tales of Xillia in Europe. 
While there's no word on a US release, at least gamers might be able to import a English copy. However, keep in mind that this might be a protective trademark. Additionally if something does come of it, it could be a while till it's even announced. We will keep you posted as new information arises.