Atlus PSP Game Price Cut Event Starts Today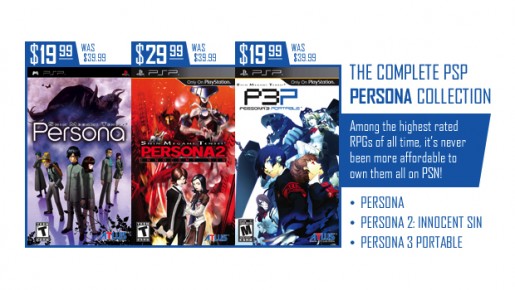 Atlus is pleased to announce a limited time sale on portable titles via the PSN. Which is great news for any PSP or Vita owner looking for a new title.
If you missed out on playing any of the first three Persona games or Hexyz Force, should definitely get them this week as every Atlus PSP title is on sale. This include games like Class Heroes, Ygrddra Union, Knights in the Nightmare and many more are on sale today! If you have the UMD, don't forget these can be played on the Vita too!
Here are the list of titles that are on sale:
Class of Heroes – now $14.99 (was $39.99)
Crimson Gem Saga – now $14.99 (was $29.99)
Hexyz Force – now $14.99 (was $29.99)
Kenka Bancho: Badass Rumble – now $14.99 (was $39.99)
Knights in the Nightmare – now $14.99 (was $29.99)
Riviera: The Promised Land – now $9.99 (was $14.99)
Shin Megami Tensei: Persona – now $19.99 (was $39.99)
Shin Megami Tensei: Persona 2: Innocent Sin – now $29.99 (was $39.99)
Shin Megami Tensei: Persona 3 Portable – now $19.99 (was $39.99)
Yggdra Union – now $9.99 (was $14.99)