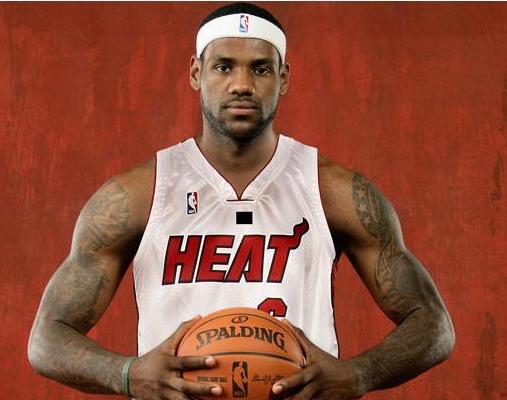 Despite losing to the Dallas Mavericks this year in the NBA Finals, the Miami Heat is the top ranked team in NBA 2K12.
As reported in Gamezone, not only are the Miami Heat the best ranked team, but the team's own LeBron James is the highest rated player in the game also.
In case you were wondering, the Dallas Mavericks are ranked only fifth overall in NBA 2K12 even though they are the current reigning NBA Champions.
NBA 2K12 is released on most major gaming consoles on October 4th.
Check out the full team rankings in NBA 2K12 below:
Miami Heat (1st Defense, 3rd Offense, 1st Overall)
Chicago Bulls (2nd Defense, 19th Offense, 2nd Overall)
Boston Celtics (6th Defense, 10th Offense, 3rd Overall)
Los Angeles Lakers (3rd Defense, 12th Offense, 4th Overall)
Dallas Mavericks (9th Defense, 1st Offense, 5th Overall)
Memphis Grizzlies (12th Defense, 4th Offense, 6th Overall)
Oklahoma City (13th Defense, 9th Offense, 7th Overall)
San Antonio Spurs (4th Defense, 7th Offense, 8th Overall)
Orlando Magic (5th Defense, 13th Offense, 9th Overall)
Denver Nuggets (20th Defense, 2nd Offense, 10th Overall)
Portland Trailblazers (14th Defense, 20th Offense, 11th Overall)
Atlanta Hawks (15th Defense, 8th Offense, 12th Overall)
Phoenix Suns (18th Defense, 6th Offense, 13th Overall)
Utah Jazz (17th Defense, 15th Offense, 14th Overall)
New Orleans Hornets (7th Defense, 16th Offense, 15th Overall)
Philadelphia 76ers (10th Defense, 17th Offense, 16th Overall)
Los Angeles Clippers (19th Defense, 19th Offense, 17th Overall)
New York Knicks (28th Defense, 5th Offense, 18th Overall)
Houston Rockets (16th Defense, 22nd Offense, 19th Overall)
Golden State Warriors (23rd Defense, 11th Offense, 20th Overall)
Indiana Pacers (11th Defense, 21st Offense, 21st Overall)
Milwaukee Bucks (8th Defense, 23rd Offense, 22nd Overall)
Detroit Pistons (29th Defense, 14th Offense, 23rd Overall)
Sacramento Kings (24th Defense, 24th Offense, 24th Overall)
Washington Wizards (25th Defense, 25th Offense, 25th Overall)
New Jersey Nets (26th Defense, 27th Offense, 26th Overall)
Cleveland Cavaliers (21st Defense, 26th Offense, 27th Overall)
Toronto Rapters (22nd Defense, 28th Offense, 28th Overall)
Charlotte Bobcats (27th Defense, 29th Offense, 29th Overall)
Minnesota Timberwolves (30th Defense, 30th Offense, 30th Overall)
NBA 2K12 Team Ratings Revealed; Miami Heat On Top

,