Interview: John McLauglin Talks About PS Vita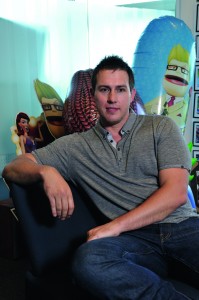 Just Push Start had time to interview John McLaughlin from Sony's X-Dev Studio to talk more about the PlayStation Vita before it launches in February 2012. John McLaughlin is currently working on numerous projects for the upcoming PlayStation Vita platform. Some of the games he's overseeing includes Reality Fighters and the new Wipeout game just to name a few.
JPS: Sony's ditched the PSP brand but maintained a similar design with the Vita. What is the reasoning behind this?
JMC – As a dev we cannot speak about branding or design reasons. But i can say that to hold, the design is very ergonomic, light, feels nice in your hands and the front and rear touch inputs feel extremely natural to use.
JPS: Has It Been a Challenge Developing Games for the Vita and What Unique Gameplay Features Does a Vita Game Provide as opposed to a PS3 Game?
JMC – It's always a challenge to develop a game on any platform, but vita has been easier as the toolset is easier to use so just getting basic things up and running is quicker so we can get into what works and doesnt from a game design point of view more quickly. Being a portable device there are always different features you can provide over a home console, but both front and rear touch allow for some unique gameplay opportunities, not forgetting the dual cameras allow for portable AR experiences which are more difficult with a static camera on a home console. Lets also not forget we have the opportunity to do some cool location based game ideas now too!!
JPS: Facebook, Twitter and Skype will all feature on the Vita. Are there any unique or particularly interesting apps that will feature on the device?
JMC- The social aspects are all interesting, NEAR and Party allows for more social interaction than ever before on a portable console. Especially now you can access the likes of voice and text chat no matter what game or application you are using. There will be web browser, video and music apps as well as the ability to check in on foursquare.
JPS: Are PS Vita trophies linked to the same PSN account?
JMC – Yes they can be and you can view trophies on the Vita won on both Vita and PS3
JPS: What can you tell me about the online multiplayer experience over 3G networks?
JMC- This is totally dependant on the game and the provider. We however already have some cool Asynchronous gameplay on games like Hustle Kings and Top Darts. Expect some very cool locational based gameplay ideas coming to games in the near future too!
JPS: In each Vita games, we know that the handheld is using a gamecard instead of a disc. What's the maximum capacity that Vita games can have?
JMC- The PS Vita card will come in 2GB and 4GB capacities. We have not announced a maximum capacity
JPS: Are there any special PS3 connectivity features planned for Vita?
JMC – As we move on you will see more and more connectivity features announced, but immediately we will have cross play which means you can play on your Vita directly against your PS3 owning buddies. Games like Wipeout and Hustle Kings already have this feature and it is awesome! Also, depending if the game is compatible, there is the possibility of saving your PS3/Vita game and continuing to play the same game on the other console.
JPS: Lastly, what would you say the target market for the PS Vita and what can it offer differently from other mobiles devices such as android phones, tablets etc…?
JMC – I cannot speak about target markets, but vita is a dedicated games console which means it is more suitable to a wider range of games and genres than tablets, phones etc. The twin analog stick and button layout means you can offer no compromise controls on home console style games, yet the touch screen means we can also offer the styles of bite sized games that you can find on phones/tablets. Add in the dual cameras for new AR experiences as well as the rear touch input and the Vita is the only portable device capable of offering the gamer every possible gaming experience. No gamer will be disappointed with Vita, whether they are 8 or 80 years old
I'd personally like to thank John McLaughlin for taking the time to answer our questions. Also keep it locked at Just Push Start as we will have a hands-on session with the PS Vita later this week!
Interview: John McLauglin Talks About PS Vita

,