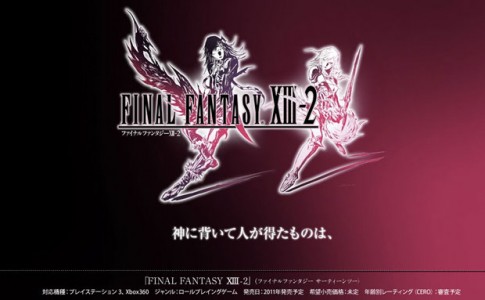 As reported on Famitsu.com, some new details have emerged about Final Fantasy XIII-2. Some new features will make its way onto the game that wasn't seen in Final Fantasy XIII.
Final Fantasy XIII producer, Yoshinori Kitase was interviewed as part of Sony's "Play Live" sessions at the Tokyo Game Show. The game will have an amusement park center complete with mini games such as Chocobo racing and a casino. Fans of Final Fantasy VII will like this feature…
Final Fantasy XIII was disappointing due to its lack of DLC support. Final Fantasy XIII-2 will make use of DLC however. Kitase mentioned fans can look forward to extra costumes, weapons and even monster downloads. Although the game itself will provide hours of gaming, Kitase highlighted the fact the DLC will add even more hours of gaming fun.
Final Fantasy XIII-2 is due out on the PS3 and Xbox 360 on January 31st in North America and February 3rd in Europe.
New Final Fantasy XIII-2 Details Shared; Chocobo Racing And More

,