With the release of the Nintendo 3DS we expected a price drop, but not this quickly, and not on the DS Lite. Nintendo just announced that the DS Lite has been officially dropped in price from $129.99 to $99.99, effective June 5.
In addition, Nintendo will be repackaging games featuring Mario with a red case to make them more easily identifiable by consumers. There was no price drops announced for the games just a different color box. The games announced for repackaging are listed below.
New Super Mario Bros.
Mario Kart DS
Super Mario 64 DS
Mario Party DS
Mario & Luigi: Bowser's Inside Story
Mario vs. Donkey Kong: Mini-Land Mayhem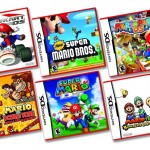 For anything Video-game related stay tuned to Just Push Start!
DS Lite Drops to $99 On June 5th

,