Modern Warfare 2: Stimulus Package DLC Review
Good: Verity, War made pretty
Bad: Price, Random Game Types?
User Score
3.9
(18 votes)
It has finally arrived. The much anticipated downloadable content for the biggest online game of all time is here.  The Stimulus Pack is a new downloadable content multiplayer map pack for Call of Duty: Modern Warfare 2.  With millions of players who log onto this game daily, the current maps for multiplayer were starting to feel a little stale.  The stimulus pack is here to hopefully change that and bring new excitement to the most popular online shooter.
However, at the steep price of 1200 Microsoft points ($15) is it truly worth extending your multiplayer experience?  Let's take a look at the HOTs and NOTs of this Stimulus Pack!
HOT
Verity
The Stimulus Pack offers five new maps, all of which have their own distinct feel.  Of course, two of these five maps are revamps from Call of Duty 4: Modern Warfare.  Of the five maps, the two new locations are Bailout, Salvage, and Storm.  The two revamps are of course Crash and Overgrown.  All of these maps have something different to offer and can all be used to suit multiple playing styles.  Bailout is one of my favorites.  It is a multi-floored apartment building that offers much strategy.  Shooting through floors to kill enemies below or above is always a fun time.  Salvage is another snow level in the multiplayer experience featuring destroyed cars and many more forms of debris to take cover behind.  Storm is more of an opened style map that features multiple forms of machinery that can be sued as cover and even vantage points.  The two revamped maps also offer a good amount of variety.  Crash is a new urban level that features multiple forms of wear and tear due to war damages, and Overgrown is a large dry creek bed.  All these maps include something for everyone, be it the long ranged sniper, or the close ranged tactical knife user.  Regardless of the spec you use, there will be a map you enjoy.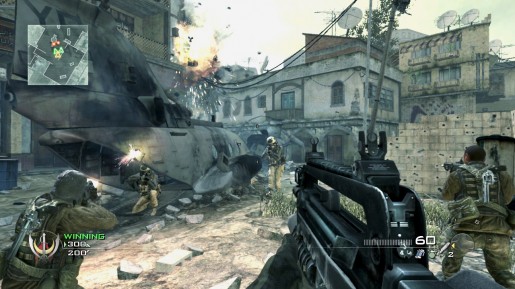 War made pretty
The maps in the Stimulus pack are simply stunning.  They are certainly a sight to behold.  The city scrapes of Crash look perfect in replicating a damaged city, and Bailout looks just as it should, a rundown apartment with peoples belongs scattered all over.  Even the less colorful maps such as Overgrown have a subtle charm to them that will captivate the look of a creek bed with no water brings a distinct look that manages to make you feel like you are in a rural town.
NOT
Price
The Stimulus Pack is not exactly cheap.  At the cost of 1200 Microsoft points ($15) you aren't really getting a whole lot.  Yeah, you get five maps that will lengthen the longevity of your multiplayer experience, but those five maps only add so much.  Two of those maps are not even that new, just remakes of old favorites.  It isn't a bad thing, but with so little bang for your buck, it just seems that the price of 800 Microsoft points ($10) would have been much fairer.  It would be nice if some weapons or new perks were added in, or even maybe some new Spec Ops missions.  Hopefully we will see more out of Modern Warfare 2 if new downloadable content is ever announced for this title.
Random Game Types?
This issue will be fixed with time I am sure, but a huge issue I had with this map pack is the fact that the game types that you will play are simply random.  There are the regular modes and the hardcore modes, but the game type you play is random.  Free for all, team death match, headquarters, you never know exactly what you are going to get.  I understand that not everyone is going to have the map packs so they do not wish to incorporate them into the normal playlists as of yet, but it would still be nice if there was a straight team death match/death match option.
VERDICT
All in all, this map pack does offer new joys to the already bountiful Modern Warfare 2 multiplayer.  The five maps are great to look at and will keep you wanting to play and think of new tactics for a good while.  However, at the price of 1200 Microsoft points, not many people will pick up this pack right from the get go.  Only getting five maps and nothing more is a steep price to pay, but if you are a fan of the online multiplayer, then this pack is defiantly worth checking out.
[
Editor's Note:
Modern Warfare 2: Stimulus Package was reviewed on a Xbox 360 platform. The DLC was provided to us by the publisher]
Modern Warfare 2: Stimulus Package DLC Review

,