Yakuza 3 Review
Good: Story, Gameplay, Content
Bad: Dialogue/Subtitles, Graphics, Mission Marker
User Score
9.0
(1 votes)
Yakuza 3 has finally made its way onto US soil.  For those of you whose Playstation 2 was not graced by Yakuza 1 and 2 let me fill you in on what the series is all about.  Kazuma Kiryu is the star.  He worked his was through the Japanese underworld, Yakuza, and eventually became the infamous Fourth Chairman of the Tojo Clan after some savage beatings and power struggles took place.  Now we catch up with him in the third game where he has done his best to separate himself from that old lifestyle.  You might be expecting him to be dishing out knuckle sandwiches for breakfast, lunch, and dinner, but that is not the case.  Kazuma has opened an orphanage in Okinawa to give unfortunate children a place to call home and people to call family since he was victim to the same life from as early as he can remember.  That is a very brief overview for now, but we will dive deeper into the story a little later.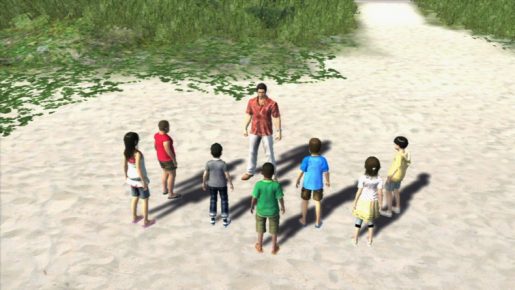 Yakuza 3 really has to shine in all aspects and sell itself on its own merits due to the lack of any noticeable marketing.  Can the series once again prove to be a worthy addition to the PS3 collection and do it proud?  Here are the HOTs and NOTs.
HOT
Story
I figured I would start here since I am sure most of you need more information to satisfy any curiosity created by the summary above.  By the way if you want an extremely in depth understanding of the first two games Yakuza 3 comes packed with about twenty minutes of video showing off the main events in those games so that you can be caught up to speed on the events leading up to the third installment.  Kazuma Kiryu worked his way into the prestigious position of the Fourth Chairman of the Tojo Clan, but after many loses and life altering events he has since distanced himself from the ugly underside of Japanese crime.  The game starts out with him running an orphanage in Okinawa taking care of some children.  All seems to be going well and he is enjoying his new lifestyle until some rather unfavorable events take place.  He has two questionable politicians fighting to pass different bills.  One is for a resort to stimulate the economy while the other supports the creation of an American military base.  Whichever one comes out on top both require the land Kazuma is currently residing on with the children.  Not only that but Kazuma learns of the death of another chairman involving a killer with a rather familiar look.  These events set the stage for all the mid street brawls and discoveries that await the player.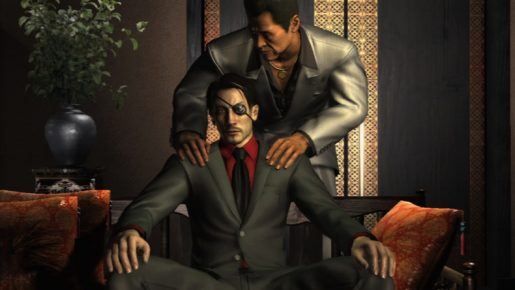 The story spans over two different lively locations: Okinawa and Tokyo.  The change in locales is not just to switch it up for players.  There is some symbolism attached to each.  In Okinawa players can expect to do activities that revolve around the orphans and carry a light hearted feel all while sporting a Hawaiian shirt.  These range from playing hide and seek with the children to chasing a dog through the streets in the downtown area.  Once you invest enough time into the game Kazuma puts on some more flashy clothing and heads to Tokyo.  Here things seem darker and more gritty.  The kids are no longer in the picture and without their smiling faces or trivial problems at hand the player is presented with the dark workings of the Japanese gangs occupying the area.  The transition really brings life to the game adding some real immersion which allows the player to become emotionally attached.  Once you actually care about the characters and their decisions, regardless if they are choosing clothing for an orphan to get a date or helping a woman get her stolen purse back, it brings the player to a new level involvement as you start to mold your actions around what you think Kazuma would really do given his personality that fleshes out through dialogue and cutscenes.  One of the areas of the game that this becomes apparent is that most violent encounters with Kazuma do not end in death.  Although he knows how to really lay into someone with his fists, and other random objects, most fights will end with the opponent apologizing and offering some sort of gift.  This shows his nature.  He is not here to end the lives of others.  He has given a home to children without families and that puts him in the position of a role model.  His beatings result in the sorry opponent who challenged him being able to walk away with a lesson learned.  Not all he has to teach is shown through his fists.  As you will see he is able to switch it up and deliver life lessons through mature and intellectual dialogue.  It was refreshing to see a story unfold with a character who is human and has actual emotion and morals.  This is a welcome change from most games where characters are portrayed as hardened killing machines with little reason for motivation and lack emotion.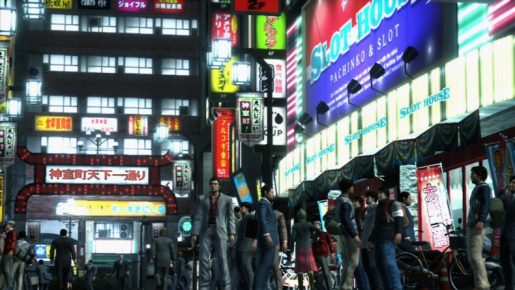 Gameplay
When it comes to enjoyment it is a toss up whether the story or the gameplay was better.  The game has a sort of old school feel when it comes to the fighting mechanics.  At the beginning you will have your basic move set which consists of a light attack, heavy attack, and a grab.  It is extremely simplistic when it starts out, but it still manages to be entertaining before achieving higher levels that extend your combat capabilities.  As Kazuma gains experience from fights they can be spent on one of four categories.  These are Soul, Technique, Body, and Essence.  Soul affects the length of the HEAT gauge and eventually adds the taunt ability.  Invest some points into Body and you can expect great physical strength and an extended HP bar.  Essence governs the strength of actions performed with HEAT and the variety of HEAT moves.  Upgrading Technique increases the amount of combos at your disposal.  Although Technique opens Kazuma up for new moves it is not the only way to obtain new techniques.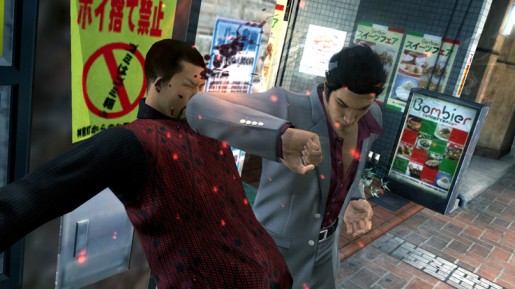 There are two ways besides the normal upgrading process in which Kazuma can expand his fighting knowledge.  There are trainers who will teach you how to use new weapons such as nunchucks.  To be granted a new weapon you must first defeat the trainer with just your fists while they use the selected weapon.  This is to help the player learn the weaknesses of the weapon before using it themselves.  If you are successful in conquering the trainer he will bestow a Master Certificate upon you which can be traded at a weapons dealer for the weapon itself.  The other way of becoming an even deadlier character is through Revelations.  Revelations are scattered throughout the map in the form of odd events.  For example, there was a drunk pestering a school girl at the entrance to an alley way.  A quick jump to first person to observe the scene and I was prompted to click X.  After doing so a scene initiated and Kazuma whipped out his cell phone.  A quick time event took place and pictures were snapped as the violated girl judo flipped the drunk. Once they were completed I was faced with three options to choose from regarding the situation.  If the right one is chosen, then Kazuma will have a revelation where he learns a new move based on what he observed and writes it in a blog.  It is a very unique way of learning new techniques and the situations that lead to the new moves are hilarious.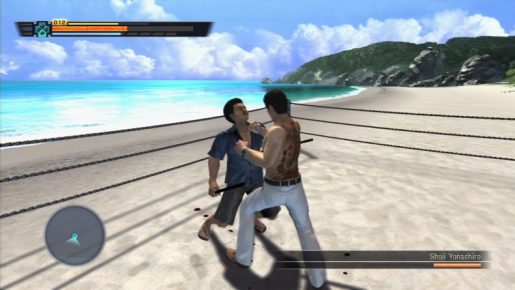 When roaming around the map you will not have to wander blindly into the unknown.  Just like other free roam games such as Grand Theft Auto this one comes paired with a mini map at the bottom of the screen.  If you are pursuing a main objective you will be able to spot it by either a pink arrow pointing in its direction or a pink pulsating circle if the location is within the mini map's range.  Maybe you are looking for some down time and would like to stray from the main story for a bit.  There are plenty of side missions in the form of substories and hitman missions.  You can usually spot these by looking for NPCs with green arrows over there head.  Go initiate conversation with them and be prepared for anything.  The tasks can become quite unusual.  In one scenario Kazuma agreed to help a man carry two 6 scoop ice cream cones across the street and over to his family by a convenience store.  It was not so simple however.  Getting bumped by a pedestrian or car caused the ice cream to fall onto the ground and running was not an option.  Also, if it took too long to locate the family the ice cream could melt.  In either unfortunate situation Kazuma was faced with the decision of giving up or paying 1,200 Yen for each cone and try again.  The game is not always as straight forward as most would think since I am sure newcomers to the series would assume a game dealing with the Yakuza would have quite a serious tone.  It does but it also knows how to have fun and entertain through quirky situations and characters.
Yakuza 3 knows how to keep the player interested and the experience fresh.  Regardless if you are on a main story mission or a side story chances are you will see some odd things that are LOL worthy.  One of the main missions had the retired yakuza sprinting through the streets trying to keep sight of a small dog.  This was an interesting experience and as I later found out it was more of a way to prepare me for Chase events that appear later on against other humans that throw obstacles into the mix.  Maybe you are not feeling like taking part in missions whatsoever and just wanna relax.  Yakuza 3 has you covered.  There are countless activities to partake in.  Pool, karaoke, gambling, darts, and golf are only the tip of the iceberg.  There is something for everyone.  Also, these minigames do not feel tacked on in any way.  They have a good amount of depth and detail to them which is surprising and pleasing.  If none of those catch your interest, then maybe you are one of those perfectionists out there who enjoys finding collectables.  There are locker keys strewn about various locations in Tokyo and Okinawa.  They are numbered and open the corresponding locker.  These lockers contain random items that can prove useful.  I could go on and on about the countless options you have at your disposal in regards to what you choose to do.  The point is no matter what you are looking for in a game this one contains one or more gameplay mechanics that will be sure to please you.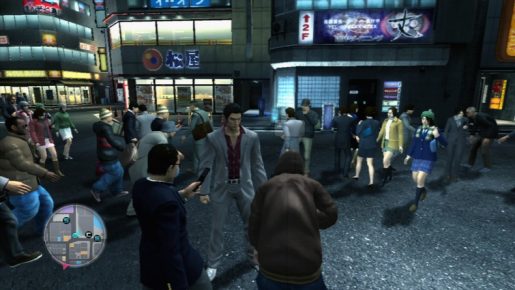 Content
If you could not tell from the gameplay section above there is an absurd amount of content.  The maps may not come close to rivaling the scale of GTA IV or Just Cause 2, but the amount of activities and side quests it manages to pack into that area is impressive.  It seems as if every street has something new to offer.  Some attempt to conceal locker keys while others present you with a couple who needs help finding an identical statue to the one they currently own.  You never really know what your next adventure is going to be and that is half the fun that this game offers.  A personal favorite of mine was the random encounter I had with someone with the title of "Con Man" and his followers.  Once the encounter started he fell to the floor claiming severe injuries.  When I refused to pay the unreasonable amount of money he proposed he stood up and started the fight.  After whooping everyone involved with some devastating combos and a nearby bicycle he apologized for his actions and even claimed that getting punched so much healed his previous injuries.  It is the absurd moments that fill this game and the abundance of them that really makes it stand out so much.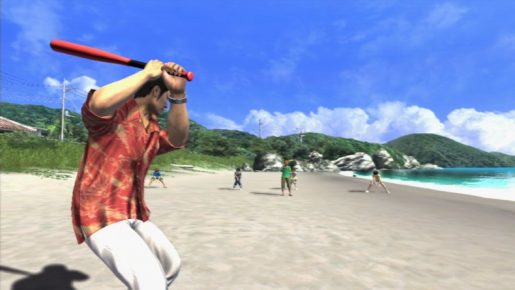 NOT
Potential Turn Offs
Before I start I am going to explain the reasoning behind this category.  I labeled it "Potential Turn Offs" because personally most of what I am about to talk about did not detract from my enjoyment of the game, but I can see how it could do so for other players.
Dialogue/Subtitles
The game was originally in Japan and finally made its way over here.  During the transition it did not get English voiceovers.  So any audible dialogue is in Japanese with English text at the bottom of the screen.  If you were unable to enjoy the Jet Li movie Hero due to the fact that it was in another language and required reading, then chances are it will still bother you here.  Also, during non-CGI cutscenes there is a lot of reading to click through.  Some may find it too tedious a task to read and progress through box after box of text.
Graphics
The graphics are not going to win any awards here or show up games like Uncharted 2 or God of War 3.  The game was made a while back and as previously stated we are now just receiving it so the presentation is not on par with what we see being released today.  That is not to say that it is terrible, but some gamers are turned off to graphics that do not push the limits of the system.
Mission Marker
This is the only one I can really agree with.  I stated that the main mission marker is displayed on the mini map, but if you are doing a side quest you will still only see the main mission marker present.  This can result in running around aimlessly hoping that you are heading in the right direction to complete your task.  It does not happen too often if you listen to instructions from those giving the quest and use your full scale map in the pause screen.
Verdict
This is why the Yakuza series is great.  Yakuza 3 pretty much does it all right.  Great story, addicting combat, nice pacing, enormous amount of content, believable/likable characters and the list goes on and on.  For fans of beat 'em up, JRPGs, or free roam there is something wonderful to be had here.  You can dive right into the main story or dabble in the weird activities.  Either way you are sure to spend no less than twenty hours, if you ignore everything but the main quest, before reaching the end.  Do NOT pass on this game.  You will not be disappointed.  Here is to hoping we see Yakuza 4 soon!
Yakuza 3 Review

,