We sure love costumes and turning Kratos into the Phantom of Chaos on your first run through of the game might be one of the bad ideas you will be having. For the people who pre-ordered the game at their local Gamestop stores and received the exclusive Phantom of Chaos costume DLC might want to hold off in using it until you finish the game.
According to the game's manual, it is stated that by using costumes, it will disable the ability to earn trophies. Costumes in God of War III can be unlocked by finishing the game for the first time or if you want to use it straight away, you can do so by redeeming the voucher code that you get from Gamestop or retailers by pre-ordering it.
Costumes can only be used on the difficulty levels that you have already cleared.
NOTE: I apologize for the wrong information about using the Phantom Chaos Skin. Yes, I can confirm that it can only be used AFTER you finished the game but the fact still stands by using any costumes, it WILL DISABLE TROPHIES you are wanting to get on your second playthrough.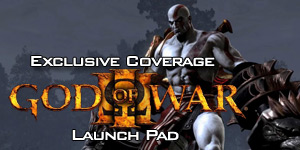 God of War III Costumes Disables Trophy

,