Lunar: Silver Star Harmony Demo Clear Data Unlockable Revealed
The demo of Lunar: Silver Star Harmony was released on the PlayStation Store this week for everyone to try out. What makes the demo special, is that it can help you in the final game. Anyone with cleared demo data on their memory stick can unlock a special item in the retail version of the game.
I've had the final build of Lunar: Silver Star Harmony since last week and upon loading the clear data of the demo, I've finally found out what the bonus equipment is. Instead of Luna receiving a Slingshot from Alex's Dad, she will receive Silver Darts that everyone can use. Using the weapon early in the game gives you an advantage since there is an effect that inflicts to the enemy. You can get this weapon later in the game for 26,000 Silver. Silver Darts works best with Luna.
Check out the screenshot I took: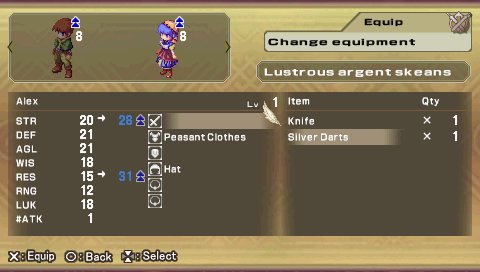 Check out our full review of the game soon. *We have an embargo to comply!*
Lunar: Silver Star Harmony Demo Clear Data Unlockable Revealed

,