When it comes to WiiWare games, only a few can be considered remarkable and one of the best ones I've played was LostWinds. It was short but it was worth every penny. After finishing LostWinds, it felt like I needed more. Releasing this week, Frontier finally brings the sequel to the WiiWare virtual console for the Nintendo Wii.
LostWinds: Winter of Melodias is a sequel to the first game that was released awhile back. It focuses on the boy named Toku who has the power to control the winds. With the help of the WiiRemote, Toku can glide, fly, or do anything he wants with the help of the wind. It starts with Toku desperately trying to find Magdi, his friend from the first game. A journal was left and it was noted that she went in the Melodias far north. That is the start of Toku's little adventure.
Is LostWinds: Winter of Melodias a game that is worth purchasing? Should you expect the same thing you did on the first game? Let's take a look on the HOTs and the NOTs.
HOT
Presentation
LostWinds: Winter of Melodias on the Nintendo Wii doesn't look like it's a WiiWare title due to its incredible graphics. While it's not next generation graphics, it is one of the best looking games for WiiWare. If you played the original title, expect the same graphics to be used in this game, but there will be new areas where you can venture. These include such areas as the snowy path towards the City of Melodias. Expect no voice overs in this game however. Throughout the game, prepare yourself to read. The text is short, but very informative in progressing the story.
As Toku goes on a journey for saving his friend, Magdi, he will have a new arsenal that will help him on his way to the icy city. It will be a very cold journey for Toku and getting heat from fire is the smartest thing that Toku needs to do in order to survive. At some point of the game, Toku will receive a heat suit where the cold weather is no longer a problem for him. Of course aside from that, Toku will have a assortment of new abilities.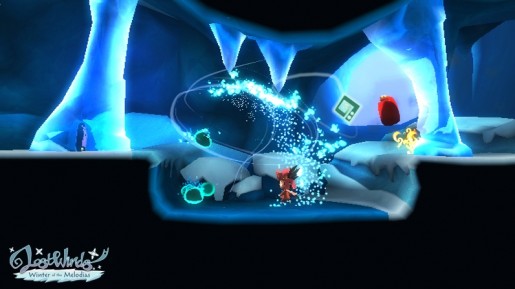 Short but sweet
Similar to the first title, Winter of Melodias can be finished in less than four hours depending on your skill. There is much more to do than finishing the main quest however. During the course of Toku's journey, there is an optional side quest that you can embark on. Scattered throughout the game, there will be 48 statues that you can collect. Upon collecting them, you are given bonus rewards.
A Journal is good!
Toku will have a journal that he can keep track of all the notes and hints that he comes across throughout the game. Entries in the journal help develop the story, and of course, you get the handy dandy map. The map that is laid out in the journal will be marked with your objectives, so it is rather difficult to get lost. The city of Melodias is not that big, but it will take you more than enough time to ascend that peak.
Platforming
Take your time and explore every piece of scenery that you encounter. You will be jumping and going from one place to another most of the time. From Toku creating vortexes to clearing the way of enemies that hinder your way, LostWinds: Winter of Melodia is one of the finer platforming games that should not be missed.
NOT
A side from it being a short game, there really isn't much wrong.
VERDICT
LostWinds: Winter of Melodias is a perfect sequel for the Nintendo Wii. All of the good things from the original title are still here and there is no way any fan of the first title will pass this game up. It is short but you can expect an experience that will be worth it. You will find yourself coming back to play it again and again. The price is very cheap as well, so I don't see any reason for anyone to not to purchase this title as soon as it's available. Good job Frontier on the job well done!