Batman: Arkham Asylum Getting Free Downloadable Content Soon
As I spent almost 3 hours on Batman: Arkham Asylum, I noticed a news scrolling on the start menu screen that a free download for the game is coming soon. I have no idea what the downloadable content is but it could be one of the following, a costume for Batman, characters to use,  a new challenge, or new mission! Since the game hasn't come out yet, it is possible that this downloadable content will be available on launch day!
Stay tuned on Monday for our in-depth review of this dark shadow! As soon as we find out what the downloadable content is, JPS will be the first one to reveal!
[UPDATE] Applies for both PS3 and XBOX 360 Version [UPDATE] 9/9/09 – Update is coming in two weeks and both will be available on the PS3 and XBOX 360. Up until now there is no confirmation on what it will be. We will keep you updated as soon as JPS gets the news. Stay tuned
Here's the pic that I took: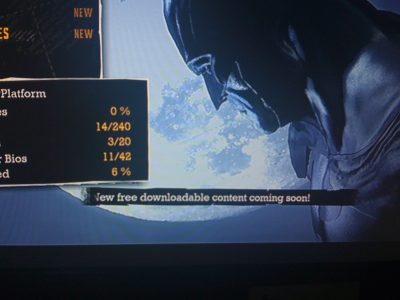 Batman: Arkham Asylum Getting Free Downloadable Content Soon

,