Letter Jam is the brand new cooperative word based game from Czech Games Edition, the publisher behind the popular title Codenames. Designed by Ondra Skoupý, the game sees 2 – 6 players crafting words for around 45 minutes. Throughout that time players will be deducing their own letters, helping others and earning strawberries. However, do these letters make more of a traffic or tasty jam? Let's find out!

Aside from handing out paper, pencils and card stands there is a little bit of setup to do. Firstly, based on the number of players a flower of red and green tokens is made. Secondly each player receives an approximately equal portion of the letter deck. These are not the players letters. Instead the player makes any 5 letter word from their stack of cards. This word is then shuffled and passed face down to the next player. Remaining cards are placed off to one side and a wild * card is put into play. At this point dummy non-player cards are put into play depending on the player count. These are more to make the same number of letters available, with the dummy player not impacting the gameplay.

With the passed 5 letter word, players spread the cards into a line in front of themselves. Without looking, each player then puts their leftmost letter card into their card stand facing towards everyone else. Everyone is aiming to deduce what all of their letters are. In a round players will come up with words from the letters visible to them, and the wild symbol. Without revealing the word they can say how many players or non-player letters it uses. The group can discuss options before choosing to go with one player's word.

That player takes the numbered poker chips and, without saying the word, places the chips next to the included letters. The numbers represent where in the word it is. For example if the 1 and 3 chips were next to D and the 2 was next to I the word would be DID. The trick is that if a player's letter is included they can use the information visible to them to work out their own letter. In the above example if their letter was the I they would write down D?D. While it could be multiple letters still (did/dad/dud) it limits the options.

At the end of the round if anyone has guessed their letter they can choose to lay the card down back in their line and start on the next letter. This isn't mandatory, so if unsure it is often best to give it another round. This is important as if you choose to move on you cannot return to that letter. The way that the clue giving works can also mean some players aren't included in a word. If any of the non-player letters are used they are discarded and replaced – potentially unlocking a new token. This can be helpful as after each word is given a token is removed from the central card.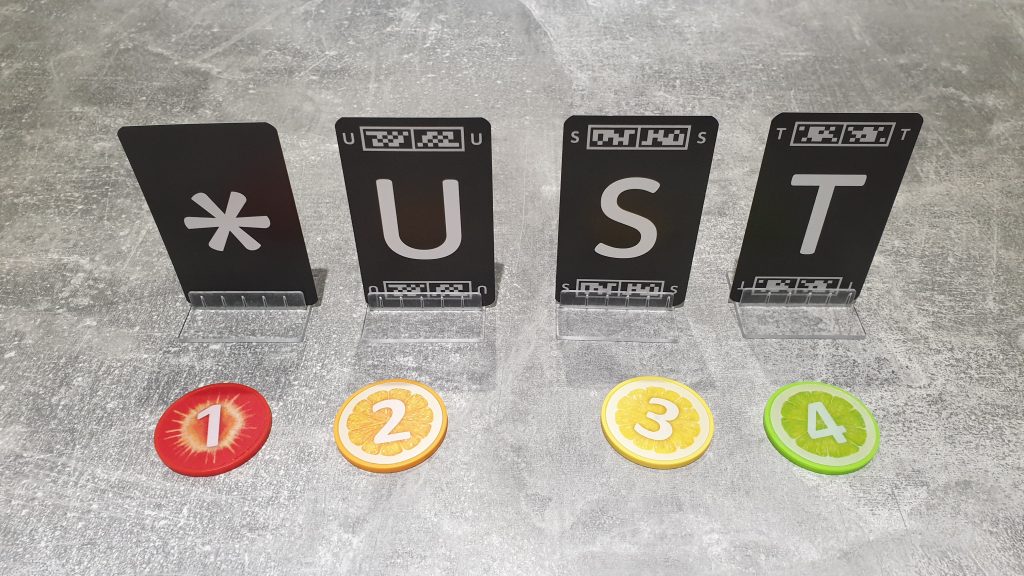 When the final token is removed the game is over, whether players know their letters or not. Without flipping their line of cards over players must rearrange the letters into a word. It does not have to be the word given to them though, just a word. One example we had was a player spelling lemon instead of melon. At this stage all players reveal the cards to see if a real word has been formed.

As Letter Jam is cooperative the more players who have created a real word the greater the success for everyone. There is a way to score – though a lot of the fun is just getting a real word! For each full word 3 times the original length is scored, though incorrect words can still score. Each correctly guessed letter is worth 1 point. Bonus letters become available when a player has guessed all of their letters. These additional letters score an additional point if used in a word. Finally, 1 point is earnt per token left on the setup card. Calculating the teams combined score and comparing against the setup card players find out how they've done – on a scale from edible to supersweet.

Letter Jam throws the normal word game limitations out of the window. Every word you can think of is viable. That means names and even abbreviations are allowed under the rules. As someone often a little daunted by word or spelling games this was the first step that put my mind at ease. The amount of words possible isn't drastically increased but the freedom of any word created being allowed makes for a lot less pressure.

Further reducing the pressure is the game being cooperative, something mostly unseen in word based games. There is a rather natural balancing here. While some long words may help, short words that use specific letters can be ideal to help the other players out. Therefore, whether you're playing with a human dictionary or a less confident player both can make words to help the group. By the end everyone needs to guess their letters, so one player cannot completely quarterback the experience – else they will be left clueless themselves about their own letters.

Due to the way Letter Jam is played there are occasional lulls in play. When you're not included in the clue word there is a touch of sitting on the sidelines. You can see the play unfolding but are unable to help in any way. The individual rounds are short, so being out for one or two at a time isn't an issue. Still, it is potentially enough for some to get distracted from the experience. The other lulls are when the team is struggling for a word. There are times when numerous vowels or an abundance of consonants are all that is available. Thankfully, the wild card is always there to help.

Components wise there isn't much to shout about past the poken chip like number tokens. These are weighty and vibrantly coloured, adding some much needed colour to the title. The cards are of simple design, with the letters being extremely legible – both large in size and being white on black. They have a sort of QR code like feature for use with the app. Though as the app is not needed, unless you want it to form words for you, these do nothing. The card stands and tokens do their respective jobs, without any flair to them. The paper sheets that are used to write down letters and words could have been wipeable laminated like sheets, but paper and the provided pencils work. The number tokens are the flair component, next to what is all a safe and solid production.

While there isn't a knockout trick up Letter Jam's sleeve to shake things up each game the replayability is aplenty. As with any of these games the puzzle itself is varied enough from one game to the next to keep players bringing it back to the table. While it doesn't revolutionise the game players can tweak the difficulty. The game suggests using 5 letter words for players to deduce. Nevertheless, players can make the game easier and shorter by choosing to deduce 4 letter words. It is possible to also make the game harder for those that want a challenge by going for 6 or 7 letter words. The best bit is that the difficulty doesn't need to be chosen by the team. The difficulty can be set per player – making it easier for unconfident players to enjoy themselves.

Word based games often feel unwinnable for those whom struggle visualizing words in their head from letters. When others know more words there seems like there is a distinct disadvantage. Letter Jam is different as everyone is cooperating, helping each other guess their letters. If anything well known words turn out to be the most helpful. The game might not convinced everyone about the word game genre. However, there is finally a word game I'm more than happy to keep pulling out; be it with gamers that love Bananagrams or Scrabble, or those that normally avoid them.

(Editor's Note: Letter Jam was provided to us at Essen Spiel 2019 by Czech Games Edition for the review.]